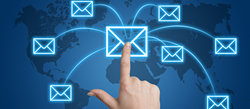 We make email easy
Garden City, NY (PRWEB) July 27, 2016
In doing so, Softmailinc.com hopes that more businesses will utilize email marketing as frequently as other marketing alternatives.
1. Email marketing can be a useful way of obtaining information for low prices. As an email marketing platform, Softmailinc.com realizes that with emails campaigns come a ton of analytics, statistics, and data regarding a business' consumer demographics, location, and prime times when they check their email. While many business shell out thousands of dollars for this type of information, this can all be achieved simply through email marketing, establishing a comprehension of what messages work and which do not, all for a low monthly rate.
2. Small businesses usually don't have the luxury of a large advertising budget like some bigger companies do. Because of this, softmailinc.com highly recommends that small businesses utilize email campaigns to promote their ads. Attaching a video or ad to an email and sending it directly to a consumer is not only a great way of increasing visibility, in addition to saving money, instead of purchasing expensive TV spots or billboard space.
3. Believe it or not, some businesses spend thousands of dollars on the nurturing of potential customers in the hopes that will someday be able to establish some sense of brand loyalty. Email marketing can help accomplish this, but at a much lower cost. A consistent flow of fun and engaging emails can assist in building the relationship between consumer and business, establishing brand loyalty along the way.
President and founder of Softmailinc.com, J. Ronald Nazaire spoke the high price of marketing in today's age stating, "Due to the high costs associated with marketing, many businesses are turning to several alternatives with the goal of effectively promoting their products and services while continuing to be cost-efficient. Despite the belief that it has become outdated, email marketing is still one of the most reliable avenues in terms of conveying messages to large audiences for a relatively low price."
Additional information and resources can be found at http://www.softmailinc.com/blog or by calling 516-717-1434. Those interested in email marketing are encouraged to follow softmailinc.com on social media including Facebook, Twitter, and LinkedIn.
We provide our online web-based email marketing solution to reach your target audience and build customer relationships. Email marketing is for every small business and should be part of the marketing mix. Softmail has a large database of opt in emails for you to select from, and to market to.