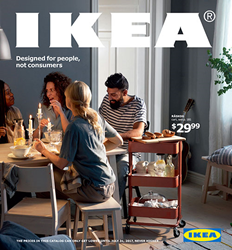 CONSHOHOCKEN, PA (PRWEB) July 27, 2016
This announcement corrects the press release that was issued on Monday, July 25, 2016 at 12:35 p.m. EDT, entitled "New 2017 IKEA Catalog Champions a More Relaxed Life at Home."
The press release stated that the 2017 IKEA U.S. digital catalog and catalog app would be available August 8, 2016. However, the digital catalog and catalog app will not be available until August 15, 2016.
The printed U.S. catalog will be available starting on August 8, 2016, as stated.
About IKEA
Since its 1943 founding in Sweden, IKEA has offered home furnishings of good design and function at low prices so the majority of people can afford them. There are currently more than 385 IKEA stores in 48 countries, including 42 in the U.S. IKEA incorporates sustainability into day-to-day business and supports initiatives that benefit children and the environment. For more information, see IKEA-USA.com, @IKEAUSANews, @IKEAUSA or IKEAUSA on Facebook, YouTube, Instagram and Pinterest.