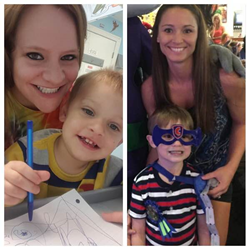 I can use this money to continue my education in order to provide a bright future for my son
Kirkland, WA (PRWEB) July 27, 2016
SR Education Group's scholarship committee is pleased to announce their July 2016 Community College Scholarship winners: Heather Mazlik and Mary Dameron! There were over 200 applicants in this round and the decision was very difficult for the scholarship committee, as all the applicants were worthy. Heather Mazlik of Chattahoochee Technical College in Woodstock, Georgia and Mary Dameron of Davidson County Community College in Thomasville, North Carolina stood out due to their touching stories of perseverance.
"I was honored and delighted when I learned that I received this scholarship," said Mary Dameron of Davidson County Community College. "These funds will allow me to attend nursing school so I can make a better life for me and my son." Mary is currently a CNA and works at a nursing home. Since she was 17, Mary has dreamed of becoming a nurse, and she is currently earning her Associate's in Nursing with an impressive 4.0 GPA. She hopes to continue her education and earn a Bachelor's in Nursing after gaining some crucial clinical experience.
Heather Mazlik was incredibly pleased when she found out she was the winner of the $2,500 scholarship. She told the scholarship committee, "I am extremely blessed and humbled to be given such a generous and wonderful opportunity." Heather is currently working towards her associate's degree in accounting and hopes to go on to be a CPA. She went on to explain, "I am beyond grateful for this scholarship and after facing many obstacles the past few years, I am finally optimistic that along with perseverance and strength, I can use this money to continue my education in order to provide a bright future for my son."
There were five outstanding finalists who did not win the July 2016 Community College Scholarships. SR Education Group awarded each finalist $100 and encouraged them to apply again in the next round of scholarships. "I know it takes hard work and drive to get what you want out of life and I will make my dreams come true," said one finalist. The five finalists for SR Education Group's July 2016 Community College Scholarships were: Victoria Zepeda, Carrie Shelley, Leylan LeCompte, Crystal Rodriguez, and Tiffany Danna.
For the next round of scholarships, SR Education Group is offering two $2,500 College Scholarships and one $5,000 Graduate Scholarship for Teachers.
About SR Education Group's Scholarships
SR Education Group is offering two needs-based $2,500 scholarships for full-time students attending a US community college. The next deadline for the community college scholarships is November 5, 2016. There is also a $5,000 needs-based graduate scholarship meant for teachers returning to school to further their careers. The deadline for the Graduate Scholarship for Teachers is October 23, 2016. Find out more at http://www.sreducationgroup.org/#scholarships
About SR Education Group
Headquartered in Kirkland, WA, SR Education Group was founded in 2004 by CEO Sung Rhee. The company's mission is to create authoritative online resources for students seeking an online education program that best suits their budget and career aspirations. SR Education Group is passionate about making quality education attainable for everyone and believes that objective information about education, careers, and educational financing should be free and easily accessible. For more information, please visit http://www.sreducationgroup.org.