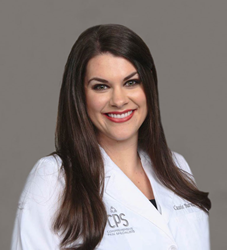 "Helping Patients Relieve Pain and Regain Life."
Mobile, AL (PRWEB) July 28, 2016
Comprehensive Pain Specialists is pleased to announce the addition of Dr. Cassie Burns to their Mobile, Alabama staff. Dr. Burns will provide effective pain management for a broad range of ailments and pain syndromes.
Dr. Cassie Burns is a graduate of the University of Mississippi Medical School. She completed her internship and residency at the University of Mississippi Medical Center Anesthesiology. She then completed her fellowship at the University of Mississippi Medical Center Pain Management. Dr. Burns is a Diplomate of the American Society of Regional Anesthesia and Pain Medicine, American Society of Anesthesiologists, Mississippi Society of Anesthesiologist and American Medical Association.
CPS has over 60 locations in 12 states, and boasts a research department with a combined 200 years of experience in clinical research in the specialty of pain management. For a new patient consultation call 662.472.1277 or visit their website at http://www.CPSPAIN.com.