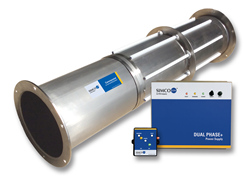 Conveyostat systems can help lower operating costs, improve material flow, and reduce machine downtime.
Hatfield, PA (PRWEB) August 16, 2016
Simco-Ion is excited to announce the release of the optimized Conveyostat system. Pairing the Conveyostat in-line ionizer with the Dual Phase+ power supply allows for safe static neutralization of any metalized trim material passing through pneumatic conveyors. Conveyostat systems can help lower operating costs, improve material flow, and reduce machine downtime.
The Conveyostat now integrates resistively coupled static neutralizing bars that are current limited to improve system performance, enhance operator safety, and prevent hard arcs.
The improved Dual Phase+ power supply produces high voltage for high speeds. It displays user-friendly fault and warning status indicators for short circuit detection and clogging when running metalized films. Additionally, it is current limited and designed to automatically shut down if any problem with the high voltage occurs.
In addition, a low voltage remote display is available that can be mounted in convenient viewing areas. The remote includes an on/off switch and displays live fault and warning conditions. This results in a safer install with reduced high voltage cable.
Watch the video to learn more about the Conveyostat System.
About Simco-Ion:
Simco-Ion is the worldwide leader in static control technology, offering custom solutions for a wide range of industrial applications. With a focus on continuous improvement, Simco-Ion is dedicated to developing advanced products designed to improve productivity through enhanced system performance and operation. Worldwide sales support provides unsurpassed customer service and application analysis that continues to drive product excellence. Simco-Ion is part of Illinois Tool Works Company, a diversified manufacturer of highly engineered components, industrial systems and consumables with annual revenues of $14.5 billion. The Company consists of approximately 800 business units in 57 countries and employs some 49,000 people.