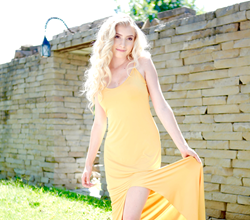 Life really is good right now
Nashville, TN (PRWEB) July 28, 2016
Rising Country Artist Electra Mustaine announced today the upcoming release of her new single "Life Is Good" with a radio debut on SiriusXM Radio's "The Highway" (ch. 56) on Friday, August 5th. Electra will kick off her single release on the radio show with a special appearance in downtown Nashville at Margaritaville at 4pm CDT.
"Life really is good right now," says Electra Mustaine. "I'm excited about my upcoming single release of 'Life Is Good' with its debut on SiriusXM's The Highway August 5th, and can't wait to kick it off in Music City at Margaritaville!"
Electra Mustaine is a Nashville singer/songwriter originally from the small town of Fallbrook, CA. Like her father, Dave Mustaine, founder of the internationally acclaimed rock band Megadeth, Electra is herself a bit of a rebel.  She chose to make a name for herself in something completely different from expectations – yet more true to who she is… country music. Performing at county fairs and NASCAR events she relocated to Music City in 2014 at age 16 to focus on her music and songwriting – collaborating with some of Nashville's best songwriters.
"Life Is Good" is an original song co-written by Electra Mustaine, Nathan Chapman and Blair Daly. The single will be available for purchase on iTunes on August 5th.
Fans can tune into SiriusXM Radio The Highway Channel 56 beginning at 4pm CDT on August 5th to hear Electra Mustaine and her new single, "Life Is Good" broadcast live from Margaritaville in Nashville.
Upcoming Tour Dates – Electra Mustaine
July 30,31–Long Pond, PA – Pocono Raceway (NASCAR Pre-race & Infield Show)
Aug 6 -Watkins Glen, NY–Watkins Glen International (NASCAR National Anthem)
Weblinks: http://www.ElectraMustaine.com / http://www.twitter.com/electramustaine / http://www.instagram.com/electramustaine/ https://www.facebook.com/ElectraMustaineMusic/
To arrange press interviews with Electra Mustaine, contact Publicist Liz Motley at LizMotley(at)me(dot)com.
###
Suggested Tweet: NEWS: @ElectraMustaine new single #LifeIsGood debuts 8/5 on @SXMTheHighway + appearing at @Margaritaville #Nashville! ElectraMustaine.com