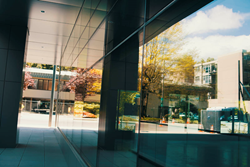 The Fireframes SG Curtainwall Series bridges the gap between fire-rated and conventional curtain wall systems, combining fire resistance with a frameless glass exterior
Snoqualmie, Wash. (PRWEB) July 28, 2016
Technical Glass Products' (TGP) new Fireframes SG Curtainwall® Series allows design professionals to create large, fire-rated glazed walls with the smooth, monolithic appearance of a structural silicone glazed system. Once installed, the patented, fire-rated toggle retention system features an uninterrupted surface appearance that provides up to 120 minutes of fire resistance for interior and exterior applications.
"Codes require architects to have fire-rated materials, but that doesn't mean they should compromise on aesthetic goals," says Jeff Razwick, president of Technical Glass Products. "That's where the Fireframes SG Curtainwall Series comes into play. It bridges the gap between fire-rated and conventional curtain wall systems, combining fire resistance with a frameless glass exterior."
The Fireframes SG Curtainwall Series is fabricated in the United States, and consists of Pilkington Pyrostop® fire-resistive-rated glass attached to narrow, steel, fire-rated frames with a toggle retention system. The assembly is silicone sealed and requires no pressure plates or caps. Its toggle retention system becomes completely hidden once installed, allowing for a sleek, frame-free exterior surface. On the backside of the system, steel fire-rated frames provide high strength and clean sightlines. To expand design freedom, captured options also are available, including captured perimeter, two-sided captured vertical and two-sided captured horizontal.
The Fireframes SG Curtainwall Series is available with up to 120-minute fire ratings for unrestricted glazing in locations where the total glazing area exceeds 25 percent of the wall. It is air- and water-pressure tested for exterior use, and is classified and labeled with Underwriters Laboratories (UL). TGP designed the system to accommodate its Fireframes Designer and Heat Barrier Series door systems to provide architects with a complete curtain wall and entrance solution.
Read a case study on the use of Fireframes SG Curtainwall in the 929 Office Tower in Bellevue, Washington.
For more information on the Fireframes SG Curtainwall Series, along with TGP's other fire-rated framing and glass products, visit fireglass.com or call (800) 426-0279.
About Technical Glass Products
Technical Glass Products (TGP) is your one source for fire-rated glass and framing systems, along with specialty architectural glass and framing products. The company offers AIA-registered continuing education, project consultation, product specifications, CAD drawings, BIM 3D models and rapid-response quoting. For more information about TGP's products and services, call (800) 426-0279, visit fireglass.com (fire-rated glass and framing) or tgpamerica.com (specialty architectural glass and framing).