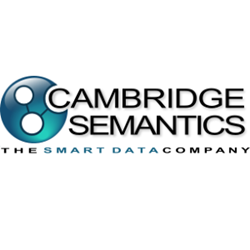 Financial institutions have realized that change is the norm today and that new analytic tools are required to clarify where markets are headed more quickly.
Boston, Mass. (PRWEB) July 28, 2016
Cambridge Semantics, the leading provider of graph-based Smart Data discovery and exploratory analytic solutions, today announced the appointment of Arthur Keen as Managing Director Financial Services.
In this newly created position, Keen will serve the growing number of Cambridge Semantics customers in the financial services sector adopting its Anzo Smart Data Lake™ solutions for enterprise scale analytics.
"We are delighted to add Arthur to our growing Financial Services Solution team." said Marty Loughlin, Vice President of Financial Services at Cambridge Semantics. "We are currently signing on record numbers of 'smart data' clients in the financial sector who understand the power of our Smart Data Lake solutions to deliver critical analytic-driven insights in areas such as portfolio investment optimization, regulatory compliance and risk management. Arthur's extensive experience and expertise will permit us to meet growing industry demand in this new era of big data discovery and analytics."
Keen joins the team with over 30 years of experience in semantic technologies, as well as graph analytics, predictive modeling, unstructured data and data lakes. Prior to joining Cambridge Semantics, Keen served as Chief Scientist at SPARQL City, which was acquired by Cambridge Semantics earlier this year, and prior to that he served as Chief Software Architect at Object Reservoir. At SPARQL City and in his most recent position, Keen worked with top financial institutions regarding their data governance and analytics needs, leveraging the Financial Industry Business Ontology (FIBO) standards. He has been awarded patents for strategic cyber threat analysis and distributed network intrusion detection. Keen holds a doctorate in industrial engineering from Texas A&M University.
"Financial institutions have realized that change is the norm today and that new analytic tools are required to clarify where markets are headed more quickly," said Keen. "For instance, when a world-changing event such as Brexit occurs, they need information on how it will affect the investment environment within days, not weeks or months."
"Cambridge Semantics' semantic-based smart data discovery and analytic solutions are much better suited to meeting today's financial sector's needs than legacy data warehousing systems," said Keen. "I'm looking forward to working with institutions to help reduce their costs, predict and manage risk, and more effectively manage their portfolios for their investors."
About Cambridge Semantics
Cambridge Semantics (CSI), the Smart Data Company, is an enterprise smart data discovery and exploratory analytics company. It enables customers and partners to rapidly build and deploy Smart Data Lake solutions based on its award-winning Anzo Smart Data Platform™ (Anzo SDP).
IT departments and business users gain better understanding and data value through the semantic linking, analysis and management of diverse data whether internal or external, structured or unstructured. The Anzo Smart Data Lake solutions are delivered with increased speed, at big data scale and at a fraction of the implementation costs of using traditional approaches.
The company is based in Boston, Massachusetts.
For more information visit http://www.cambridgesemantics.com or follow us on Facebook, LinkedIn and Twitter: @CamSemantics.
# # #