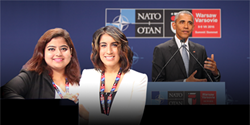 "NYFA prepared us to do what no other student journalists have ever done -- accompany the President of the United States on an overseas trip," says Rajkitkul.
New York, New York (PRWEB) August 03, 2016
Alisa Rajkitkul and Urvashi Barua come from two different worlds. Alisa is a former internet marketer from California, while Urvashi is a media producer from New Dehli. When they enrolled in the New York Film Academy's Broadcast Journalism program, they had no idea they would achieve what few, if any, student journalists ever accomplish -- accreditation as White House reporters. This in turn led to a singular achievement. They were chosen to accompany President Barack Obama on his historic–making trip to the heads-of- state NATO conference in Poland during early July.
For both of them, it meant the attainment of long-held dreams.
"I read about NATO in my college books. Today, being a part of the NATO summit as a credentialed White House reporter for NYFA News and the New York Film Academy, took me a step forward in my life," says Barua.
At the New York Film Academy, students are taught the skills that are essential to being a multimedia journalist. Today, journalists are expected to fill a number of different roles -- reporter, producer, camera operator, editor. Being well-versed in these areas is essential to success. NYFA students also learn the ethical foundation upon which all of journalism is based. They come to understand that journalists have a special responsibility to society, and must get the story right doing whatever it takes.
"NYFA prepared us to do what no other student journalists have ever done -- accompany the President of the United States on an overseas trip," says Rajkitkul.
Time and again at the NATO conference, seasoned reporters marveled on how these two student journalists had attained a status that had taken them decades to reach. Whether it be shooting stand-ups, conducting interviews, attending media briefings or participating in a presidential press conference, the two students worked side-by-side with correspondents from all of the major domestic and international news services.
Having graduated, Alisa Rajkitkul is now a Teaching Assistant at NYFA. Not only does she pass on technical skills, but she also shares knowledge with students of what it is like to work in "the real world." Urvashi Barua will graduate in September and has already appeared on Indian television, where a story about her accomplishments recently aired.
"When Alisa and Urvashi arrived at NYFA, they didn't know how to do any of this. Their success certainly validates not just what we teach at NYFA, but how we teach it as well. We gave them the tools to succeed, then they took those tools and forged a series of career-building news reports," says NYFA Broadcast Journalism Chair, Bill Einreinhofer.
###
The New York Film Academy is a premier visual and performing arts school based in New York City. Jerry Sherlock, a former film, television and theatre producer, known for The Hunt for the Red October (and many other classics), founded the New York Film Academy in 1992. Blending a mixture of traditional film school instruction with a new approach, the Academy emphasizes hands-on learning, though which students must make films or act in them. Over the years, the New York Film Academy has expanded both the scope of its curricula and its global presence, establishing campuses in Los Angeles and Miami—where students can earn a degree—as well as Florence, Italy and Australia, alongside campuses and locations all over the world. For more information visit nyfa.edu.