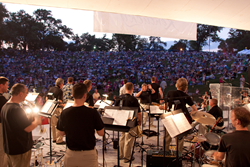 "These tunes and artists were heard everywhere in the 70s and early 80s." — KSO Music Director, James Cassidy.
Newport, KY (PRWEB) July 31, 2016
For the past 22 summers, the Kentucky Symphony Orchestra has brought multiple generations together on the lawn in Devou Park. The KSO has performed a variety of musical genres that have all but disappeared from live performance (Spike Jones, Ragtime, Vaudeville, etc). Continuing this nostalgic niche programming on August 6, the Symphony serves up tasty, smooth and crossover jazz by iconic names Chuck Mangione, Spyro Gyra, Deodato and Chick Corea.
"These tunes and artists were heard everywhere in the 70s and early 80s." said KSO Music Director James Cassidy. "It was kind of our collective instrumental sound-track for a more laid back time."
The program offers several Spyro Gyra hits ("Morning Dance," "Catching the Sun" and "Heliopolis") by Jay Beckenstein, who was the reed man for the group. Steel drums, marimba along with rhythm and sax created Spyro Gyra's signature sound, and also infused their tunes with a breezy tropical flavor. Chuck Mangione's 1978 concert and live recording at the Hollywood Bowl was dubbed "A Night of Magic." The KSO replaces the LA Phil with a slightly scaled down accompaniment of these fabulous Mangione tunes — "Feels So Good", "The Hill Where the Lord Hides", "Land of Make Believe" and "Children of Sanchez." Brazilian pianist, Emuir Deodato's funk/jazz fueled version of Richard Strauss' Also Sprach Zarathustra rocketed to #2 on the Billboard Hot 100 singles chart in 1973, and won the Grammy for Best Pop Instrumental. Chick Corea's rhythmically-catchy tune "Spain" has become a true jazz standard.
The depth of the Greater Cincinnati talent pool is one of the reasons that the KSO founder (Cassidy) started the orchestra 24 years ago this month.
"You can't begin to play this music without musicians who get it, know it and have played it. This music is really all about style," Cassidy remarked. The Phil DeGreg trio (including pianist Phil DeGreg, bassist Aaron Jacobs and John Taylor on drums) propels the band along with Brad Myers on guitar and Brian Malone on assorted percussion. Side men Hal Melia, reeds, Rob Parton, flugelhorn, and Dominic Marino, trombone headline the crew fronting the KSO for this show, which will make cloud and star-gazing both a sonic and visual treat.
Join Music Director James Cassidy for the Symphony's 22nd Summer in Devou Park, Saturday, August 6 at 7:30 p.m. Bring blankets or lawn chairs. Free admission and parking, donations suggested. For more information, visit the KSO at http://www.kyso.org or call (859) 431-6216.
About the KSO:
Since 1992 The Kentucky Symphony Orchestra has taken the "phony" out of symphony through live thematic concerts that culturally enrich, educate and entertain the residents of Northern Kentucky and Greater Cincinnati. The KSO performs throughout Northern Kentucky performing three series of concerts.