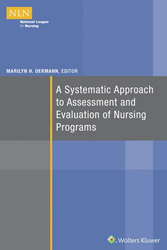 "This title brings together scholarship and evidence-based best practices of program assessment for use in diverse learning environments including doctoral study and interprofessional education in clinical settings." NLN President Dr. Anne Bavier
Washington, DC (PRWEB) August 01, 2016
Systematic and ongoing program evaluation is critical across all nursing programs. But until now, there has been no comprehensive published literature to consult. A Systematic Approach to Assessment and Evaluation of Nursing Programs (Wolters Kluwer, May 2016), edited by Dr. Marilyn Oermann, Thelma M. Ingles Professor of Nursing and director of evaluation and educational research at Duke University School of Nursing, meets that need.
Noted NLN president Anne Bavier, PhD, RN, FAAN: "This title brings together the scholarship and evidence-based best practices of program assessment for multi-purpose use in diverse learning environments including doctoral study in research universities and interprofessional education in clinical settings."
"This one handy volume offers strategies for conducting ongoing formative and summative evaluation of nursing programs of all types. Not only is such information of great value in decision-making within academic and health care institutions regarding program and curriculum design, it also provides much-needed data for accreditation and generating public reports detailing how nursing programs meet established standards of excellence," asserted Dr. Oermann. She added: "It is a great tool for master's and doctoral candidates as well as for faculty as they prepare curricula to meet accreditation standards. I am grateful for the support of the NLN Center for Assessment and Evaluation which has helped make this publication possible."
Expert authors describe models, guidelines, and practical approaches that are designed to help nurse educators and administrators:

Understand program evaluation beyond accreditation
Decide how program evaluation data should be collected
Develop and implement a program evaluation plan
Prepare for the accreditation process
Use data to make sound program decisions
NLN CEO Beverly Malone, PhD, RN, FAAN, noted the significance of this first of its kind book: "Colleagues, you will find daring ingenuity in each of these chapters. We salute Marilyn and her team of scholar-authors for their impressive achievement."
Dr. Oermann's scholarship has long focused on nursing education, with an emphasis on both teaching and evaluation in nursing. With funding from the NLN and Laerdal Medical, she is in the process of completing a multisite study on maintaining competence in CPR among nursing students. She recently completed a feasibility study on the use of simulation for high stakes testing.
Dr. Oermann is the author or co-author of 17 books (several of which are national award winners), more than 150 articles in peer-reviewed journals, and a wide variety of other publications. She is the editor of Nurse Educator and lectures widely on writing for publication and nursing education topics. She also serves as one of the leader/mentors for the NLN Scholarly Writing Retreat Program.
http:// Order A Systematic Approach to Assessment and Evaluation of Nursing Programs here.
Dedicated to excellence in nursing, the National League for Nursing is the premier organization for nurse faculty and leaders in nursing education. The NLN offers faculty development, networking opportunities, testing services, nursing research grants, and public policy initiatives to its more than 40,000 individual and more than 1,200 institutional members, comprising nursing education programs across the spectrum of higher education and health care organizations.