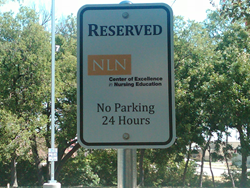 "Centers of Excellence raise the bar for all nursing programs by serving as role models of visionary leadership and inclusive excellence that nurture the next generation of nurses." NLN CEO Dr. Beverly Malone
Washington, DC (PRWEB) August 02, 2016
Fifteen nursing programs in schools and in hospitals, have been chosen NLN Centers of Excellence, the National League for Nursing has announced. These programs will be formally recognized at the NLN's 2016 Education Summit in Orlando, Florida, part of a special honors convocation that precedes the gala President's Reception "Farewell to Summit 2016" on Friday evening, September 23. The annual Summit draws a capacity crowd of nurse faculty, deans, and administrators, and professionals from allied health organizations. The COE presentation is followed by the induction of new fellows into the NLN's Academy of Nursing Education, and the bestowal of the prestigious NLN Awards.
"I eagerly anticipate the occasion to publicly applaud the 2016 COE designees, celebrating their contributions to excellence in nursing education and highlighting the outstanding faculty, deans, and health care professionals who make achieving this coveted status possible," said NLN president Anne R. Bavier, PhD, RN, FAAN, who is dean and professor at the College of Nursing and Health Innovation, University of Texas at Arlington. Added CEO Beverly Malone, PhD, RN, FAAN: "Centers of Excellence raise the bar for all nursing programs by serving as role models of visionary leadership and inclusive excellence that nurture the next generation of nurses."
More than half of the previously named COE institutions have again earned designations: Community College of Philadelphia, Excelsior College, and New York University for "Enhancing Student Learning and Professional Development"; Indiana University School of Nursing-Indianapolis for "Advancing the Science of Nursing Education); Duke University Health System, Trinitas Regional Medical Center, and the University of Kansas Hospital for "Promoting Academic Progression of Nurses"; and for the fourth time, the University of North Carolina-Greensboro for "Promoting the Pedagogical Expertise of Faculty."
First-time COEs are: Chamberlain College of Nursing and Francis Marion University, both for "Promoting the Pedagogical Expertise of Faculty"; and St. Joseph's College of Nursing, Texas A&M University, University of North Carolina-Charlotte, University of Scranton, and Wallace State Community College, all in the category, "Enhancing Student Learning and Professional Development."
A research brief (online in advance of print) in the September-October edition of Nursing Education Perspectives, "Intersection of Quality and Excellence: Characteristics of Redesignated NLN Centers of Excellence" (Deborah Merriman, et al), examines strategies and resources utilized by six schools that have had repeated success. The article demonstrates how these COEs have sustained environments that enhance student learning and professional development.
NLN Centers of Excellence are expected to exemplify the League's core values: caring, integrity, diversity, and excellence. COE faculty bear a responsibility to share their experience, knowledge, and wisdom for the benefit of everyone in nursing education. They are expected to provide guidance and be available as sounding boards to other nursing programs that aim to achieve COE status.
Each year, students enrolled in COE schools have an opportunity to express their thoughts on what it means to them to be part of a COE-designated nursing program and why. The 2016 winner of the Student Excellence Paper Competition, Laura Knepper from Saint Xavier University in Chicago will be acknowledged at the COE presentation. "Excellence in Compassion: What It Means to Me to Attend a Center of Excellence School" will be published in the fall issue of the NLN Report.
>Applications for 2017 COE designation..
About the NLN
Dedicated to excellence in nursing, the National League for Nursing is the premier organization for nurse faculty and leaders in nursing education. The NLN offers faculty development, networking opportunities, testing services, nursing research grants, and public policy initiatives to its more than 40,000 individual and more than 1,200 institutional members, comprising nursing education programs across the spectrum of higher education and health care organizations.
###