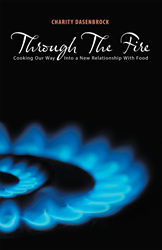 SANTA CRUZ, Calif. (PRWEB) August 01, 2016
"Diet" is no longer a dirty four-letter word.
In "Through The Fire: Cooking Our Way Into a New Relationship with Food," personal chef Charity Dasenbrock blends personal stories about her relationship with food and the emotional, psychological and spiritual sides of nutrition -- known as eating psychology.
A certified Eating Psychology Coach, Dasenbrock includes self-help exercises for those struggling to find their own sacred spaces in their bodies and kitchens.
"It has been a very deep healing for myself to go 'through the fire' of abuse, to healing, acceptance and contentment," Dasenbrock said. "I hope my story touches someone who is also in that fire."
Through her book, Dasenbrock hopes to bring nutrition into a new light and incorporate feminine energy into the masculine world of cooking.
"Cooking can change the way we feel about feeding ourselves and others, and the way we have made and can make miraculous changes in our bodies, hearts and spirits," Dasenbrock said.
For more information, visit http://charitydasenbrock.com.
Through the Fire: Cooking Our Way Into a New Relationship With Food
By Charity Dasenbrock
ISBN: 978-1-5043-5212-3
Available in hardcover, softcover and e-book
Available on Amazon, Barnes & Noble and Balboa Press
About the author
Charity Dasenbrock is a personal chef, certified Eating Psychology Coach and blogger. She has a bachelor's degree in psychology from Beloit College and a master's degree in special education from San Francisco State University. Dasenbrock has been part of a committed spiritual healing path for more than 30 years, and currently resides in central California.
For review copies or interview requests, contact:
Jennifer Uebelhack
317.602.7137
juebelhack(at)bohlsengroup(dot)com