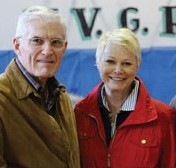 "This day has come with great anticipation. The children of Mar Vista Gardens are the final elements to make this new facility come alive. We are very proud to have been a part of their futures"
Santa Monica, CA (PRWEB) August 30, 2016
The Boys & Girls Clubs of Santa Monica (BGCSM), in partnership with the Housing Authority of the City of Los Angeles (HACLA), is proud to announce the grand opening of the brand new Mar Vista Gardens Boys & Girls Club, Jack and Cindy Jones Youth Center, located in the Mar Vista Gardens public housing development. The center has undergone a $1.7 million renovation and expansion through the use of the voter approved Proposition K funding administered by the City of Los Angeles. This facility will continue to benefit the more than 600 children living in the community.
"For over 70 years The Boys & Girls Clubs of Santa Monica has been working tirelessly to enable the youth of our communities to reach their full potential as productive, caring and responsible citizens. We are excited to continue on with this crucial mission at our Mar Vista Gardens Branch. We are beyond grateful to Jack and Cindy Jones and HACLA for their support"
–Michelle Arellano, BGCSM CEO
In 2012, HACLA was faced with closing the facility due to city budget cuts. As a strategy to keep it open, HACLA solicited bids from nonprofits to operate the facility for the benefit of the community and the Boys & Girls Clubs of Santa Monica won the contract. Soon after, in 2015, the Club broke ground, launching a major renovation of the center.
"Nearly 500 youth have joined the Club since we opened the Mar Vista Gardens Branch," said HACLA President and CEO Douglas Guthrie. "A new education center, a dedicated teen space and a music studio are just a few of the upgrades to the new facility. This is where our children can dream and we are pleased to have a partner like the Boys & Girls Club that can work to help those dreams come true."
On August 30th from 3:30 to 5:30pm the Club will open the doors to this brand new facility. The Club's operations in Mar Vista Gardens have been funded by a $1 million donation by John D. "Jack" and Cindy Jones and due to the efforts of the BGCSM staff to provide successful programs and to engage the Mar Vista community, HACLA was able to advocate and allocate an additional $1.7 for the renovations.
In addition, Mr. and Mrs. Jones called on the philanthropic community, raising over $256,000 and exceeding the proposed goal with their match. The additional $256,000 has provided the new center with needed furnishings and equipment for the sports, technology, arts, music and other programs offered at the Club. SMBGC is extremely grateful for the construction support we have received for our Mar Vista Gardens Branch and continue to raise operating dollars.
"There is no better time than now to invest in our youth. For more than 70 years The Boys & Girls Clubs of Santa Monica has made that a priority. We are stronger than ever and we are thrilled to open our Mar Vista Gardens Branch to continue to serve the community."
–Bettina Duval, BGCSM Board Chair
Thanks to the tireless efforts of Jack and Cindy Jones, HACLA, the BGCSM board and its staff, the Mar Vista Gardens Branch will provide a safe and productive place for its members to learn and grow during non-school hours. Members, ages 6 to 18, can receive tutoring, develop social skills, access technology and participate in sports, healthy lifestyle programs and leadership and community service projects. The Club looks forward to seeing its members blossom in this new facility.
"This day has come with great anticipation. The children of Mar Vista Gardens are the final elements to make this new facility come alive. We are very proud to have been a part of their futures. May we all continue to go down the road together until we reach the street named 'Success.' Remember the shortest poem: 'Me, We'."
–Jack and Cindy Jones
About The Boys & Girls Clubs of Santa Monica
Founded in 1944, The Boys & Girls Clubs of Santa Monica works to inspire and enable all young people to reach their full potential as caring, responsible and productive citizens. Through membership and outreach, the Boys & Girls Clubs of Santa Monica currently serves approximately 8,000 youth across its 10 sites throughout Los Angeles County. Members come from 131 different ZIP codes, with the majority of members coming from Santa Monica, Culver City, Venice, West Los Angeles and Inglewood. Program areas offered to youth include character and leadership development, education and career development, health and life skills, the arts, technology and sports/fitness/recreation opportunities. For more information, visit http://www.smbgc.org or follow them on Facebook (facebook.com/smbgcfan) and Twitter (twitter.com/SMBGC).
About John D. (Jack) Jones
Born in Scranton, PA, Jones grew up in Baltimore, MD and moved with his family to Thousand Oaks in 1964.
The family real estate business started small in Scranton with Jones's grandfather owning and renting two houses. His father, John L. Jones owned three rental properties in Baltimore, before the move to California. As a child, Jones assisted his parents with property maintenance and repairs. As a young man, he aspired to owning his own business. He concluded that if he wanted to sit in the front at concerts and assumed, incorrectly, that those sitting in the front owned their own businesses.
Jack explored the possibilities of starting a variety of businesses, including an automobile dealership, a shirt rental enterprise and a Chinese buffet. But his thoughts always came back to income producing property.
From the age of 16, Jones always had a job during summers, weekends and after school and gained significant experience in a variety of fields. Jones graduated from UCLA in 1969 with a Bachelor's degree in Mathematics with an unimpressive 'C' average. Because of his extensive work experience, he landed an excellent job with Garrett AiResearch as a scientific computer programmer in a difficult employment market.
Jones and his father managed apartment buildings for other owners until 1971, which proved to be a valuable learning experience. Then, while still working full time in aerospace and part time in real estate, Jones made his first investment in income property by buying a 10 per cent interest in a 28-unit apartment complex with his father and a family friend. Shortly thereafter, his father proposed that they both leave aerospace and pursue real estate opportunities full time, along with Jack's mother Helen Jones, thus a new family business was formed: John L. Jones & Sons, Inc.
The syndication of their first property was a 24-unit apartment building in Westwood (which they still own). It was the first of many small investments and the beginning of direct involvement and commitment to local communities for the benefit of both residents and investors.
The partnership continued investing in apartment buildings and in 1978, a once-in-a-lifetime opportunity arose to purchase a 420-unit apartment complex in Baldwin Hills for a very attractive price. Jones knew he could refurbish the property and attract qualified renters who were looking for safe, well-run and well maintained housing at fair rental prices. For 35 years, the complex continued to perform exceptionally well, providing opportunities to acquire other buildings in niche communities. They added several large properties to their portfolio in the 1980's.
Jones continues to retain ownership interest in numerous properties throughout Los Angeles County. He has owned the vast majority of his properties for over 25 years, bringing affordable housing and stability to those neighborhoods.
Currently, Jones assists his son John who manages the day-to-day operations of their firm, Greystone Management Group, located in Woodland Hills. They both continue to look for local investment opportunities in real estate.
Considering Jones's grandfather's modest beginnings with just two rental houses, Jones's son is now the fourth generation of Jones's investing in property and continuing their heritage of involvement and commitment to local Los Angeles area communities, including Baldwin Hills, Canoga Park, Culver City, Hawthorne, Ladera Heights, Leimert Park, North Hollywood, South L.A and Van Nuys, among others.