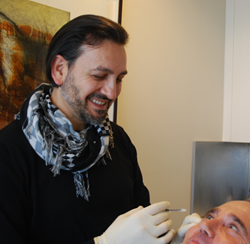 Skin care, whether at home on the ground or in the air while traveling, should be a simple to follow process and produce desired results to maintain beautifully natural skin.
Beverly Hills, CA (PRWEB) January 25, 2017
Flying is notorious for wreaking havoc with the skin, causing it to become dry, rough textured and devitalized, says Dr. Joseph Hkiek, internationally renowned cosmetic physician at All Saints Skin Clinic. The airplane cabin tends to be a low-humidity environment where pressurized air is continually recirculated. The recirculated air is lacking in moisture, so it draws moisture from wherever it can and the skin of passengers takes the biggest hit.
But as travel by air is often necessary for both business and pleasure, Dr. Hkeik reveals some of his best practices so travellers can keep their skin healthy and hydrated before, during and after flying.
Advance planning essentials
The groundwork begins a couple of months before flying that can prepare the skin at home with some of the following skin care regimens:

Vitamin A – As a key rejuvenating vitamin, Vitamin A gets the ball rolling in advance, increasing the skin's natural hydration levels, reducing the appearance of fine lines and wrinkles, as well as getting skin healthy and ready for an in-clinic treatment if time permits.
Hydration - A good hydrating antioxidant serum begins adding much needed hydration to the skin to prepare it for staying healthier in the recirculated cabin environment.
Exfoliation - Light exfoliation ensures that cell turnover commences and key ingredients are taken in by the skin more readily, resulting in cleaner, healthier skin.
Pigment Blocking – Stops new pigment from appearing and gently begins to fade existing spots.
Sun Protection – One of the most important parts of any skin routine is to protect it from the damaging rays of the sun. Sun screens that offer excellent coverage and adequate SPF protection are mandatory and need to be reapplied multiple times during the day.
On-board skin care
As it gets closer to the day of departure, a visit to the clinic can help protect and prepare skin for the on-board environment by focusing on hydrating treatments such as:

Hydrafacial – This non-invasive multi-step treatment combines the benefits of next-level hydra dermabrasion - a chemical peel - with the infusion of antioxidants, hyaluronic acid and peptides that provide instant, visible results.
Lactic Botanical peels – A nice, gentle peel that is hydrating, gently exfoliating, and gives an instant brightness and dewiness to the complexion.
Camera ready facial – For flawless, luminous and well-hydrated skin, this treatment can be done up to a week before departure.
Vitamin A peels – The number one anti-aging peel, Vitamin A peels are great for smoothing lines and wrinkles and visibly reducing the tell-tale signs of aging.
Once you have boarded the airplane and are getting ready for take-off, a hydrating mist and barrier mask are all that's needed to maintain hydration during the flight. It's also a good idea to drink lots of water and liquids while on board to prevent dehydration and nourish the skin from within. As global travel destinations may have different climates, it is essential to keep up the hydrating serum, pigment control and sun protection during the entire visit.
"In addition to maintaining hydration and following the suggested skin care treatments, sun protection is extremely important, especially when traveling to very sunny destinations," said Dr. Hkeik, whose A-list clientele in Australia and around the world seek him out for his anti-aging advice and treatments. "After returning home from that business trip or vacation, indulging in a hydrafacial to gently exfoliate the skin and raise the hydration levels can complete the recommended travel regimen."
Skin care, whether at home on the ground or in the air while traveling, should be a simple to follow process and produce desired results to maintain beautifully natural skin.
About All Saints Skin Clinic
At All Saints Skin Clinic, the emphasis is on patient care and comfort, while formulating the best approach for cosmetic enhancement on an individualized basis. With Australian offices in Sydney, North Parramatta and soon Double Bay-Sydney, All Saints offers the best anti-ageing and corrective aesthetic treatment options to clients from around the world with a personalized, strategic approach to the art and science of facial and body rejuvenation. For more information or to make an appointment, please visit http://allsaintsskinclinic.com.au/. Follow us on Facebook, Twitter and Instagram.