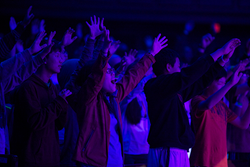 I believe we can change this nation in a day. The gospel is that powerful and teenagers are that revolutionary.
Denver, CO (PRWEB) August 01, 2016
National non-profit organization Dare 2 Share is taking a different approach to motivating and engaging young Christians in their faith, and it doesn't involve just sitting in church.
On September 23, 2017, the organization will launch Dare 2 Share Live, a national, live, multi-site training and outreach event designed to spark a movement of spiritual conversations across the nation, primarily through teenagers.
Dare 2 Share Live represents the next phase in Dare 2 Share's mission to mobilize young people to reach their generation with the message of hope in Jesus.
Driven from one live event in Denver, Colorado and broadcast out to 50+ locations across the country, thousands of teenagers and adult leaders will be inspired and equipped to relationally share their faith and then, at the exact same time, released into their communities for an afternoon of service and outreach.
With up to 250,000 spiritual conversations happening during that day, Dare 2 Share Live will raise the profile of evangelism within youth ministries across the country and ignite a movement of gospel conversations in the church at large, hope to spark a movement that hasn't been seen since the days when Scripture was still being written.
Dare 2 Share is seeking churches to be host sites for the event. For more information and to apply, visit dare2share.org/d2sliveinfo
Over the past 25 years, Dare 2 Share has motivated and equipped over 1 million teenagers to talk about their faith through conferences, training curriculum and resources. Here's what CEO and Founder of Dare 2 Share, Greg Stier, has to say about the event, "Teenagers come to Christ quicker and spread the gospel faster. That's why I'm excited about Dare 2 Share Live, a single day of coast-to-coast gospel conversations led by a generation of Jesus-loving, on-fire-for-God, ready-to-serve-their-cities teenagers. This new event will allow us to train more teenagers in one day than we had previously been able to train in a year. I believe we can change this nation in a day. The gospel is that powerful and teenagers are that revolutionary."
For more information on Dare 2 Share Live, visit dare2share.org/d2sliveinfo
For more information on the organization of Dare 2 Share, visit dare2share.org