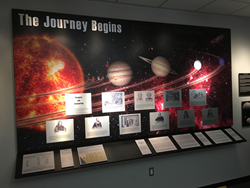 The Space Exploration Gallery will employ colorful wall graphics, educational and entertaining text, video presentations and artifacts to provide visitors with an exciting,immersive, walk-through experience
Los Angeles, CA (PRWEB) September 19, 2016
MEDIA ADVISORY
WHAT: A new space exploration gallery spotlighting the history and development of space flight will be unveiled with a ribbon cutting ceremony for news media and invited guests at the Flight Path Museum. The brilliantly colorful and engaging educational exhibit features "The Journey Begins."
WHEN: Thursday, September 22, 2016, 10 a.m.
WHERE: Flight Path Museum and Learning Center, LAX Imperial Terminal, 6661 West Imperial Highway, Los Angeles. Media and guest parking is available west of the building.
WHY: The new gallery showcases a colorful and informative timeline of space history together with a number of important space artifacts, including the flight suit of astronaut Gen. Kevin P. Chilton, commander of the Endeavour and Atlantis space shuttles.
WHO: The gallery was developed by nonprofit Flight Path in cooperation with The Aerospace Corporation and Los Angeles World Airports, the city agency which operates LAX.
PROGRAM:
Lynne Adelman, Flight Path Museum President
Steve Soukup, Flignt Path Museum Board Member
Omar Pulido, LAX Community Liaison, representing Council member Mike Bonin (CD 11)
Dr. Malina M. Hills, Aerospace Corp VP Space Programs Operations
Trevor Daley, LAWA Deputy Executive Director & Chief of External Affairs
Christina Davis, LAX Coastal Chamber of Commerce CEO
PHOTO OPPORTUNITIES:

Ribbon cutting ceremony
Gallery preview tour
Astronaut flight suit
Other space artifacts
Graphic timeline of space history
ABOUT FLIGHT PATH MUSEUM
The Flight Path Museum and Learning Center (Flight Path) is managed by Flight Path Learning Center of Southern California, Inc. in cooperation with Los Angeles World Airports, Inc. Flight Path is a California 501(c)(3) non-profit corporation founded in 1995.
Flight Path operates an 18,000 square foot facility on West Imperial Highway adjacent to Los Angeles International Airport serving over 13,000 visitors each year. The Museum offers many displays of aviation history memorabilia, graphic exhibits chronicling the history of aviation in Southern California and one of the world's largest collection of airline and aviation uniforms. Flight Path also operates the William A. Schoneberger Research Library, which houses the over 2,200 volume collection – many with historic value - of aviation and aerospace books, technical manuals and related publications. The Museum also manages four college-level technical education scholarship programs that provide financial assistance of $2,000 - $5,000 to a number of deserving students each year. The Museum is open to the public at no cost five days a week.