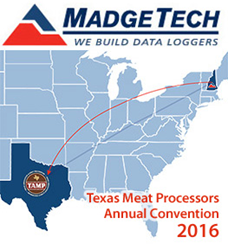 Warner, New Hampshire (PRWEB) August 02, 2016
At the show, MadgeTech will be showcasing several data logging devices and systems specifically designed for meat processing applications and help them comply with HACCP regulations and USDA standards. MadgeTech offers a selection of wireless monitoring solutions, to continuously measure and record cooking, cooling and storage processes. The rugged line of stainless steel, submersible data loggers can withstand high temperature exposure and offer a multitude of probe options and styles.
An industry favorite is MadgeTech's RFOT wireless meat temperature data logger. The RFOT is designed to hang alongside of meat in temperatures as high as 100 °C (212 °F) and as low as -20 °C (-4 °F). The RFOT is equipped with a built in piecing probe for measuring internal product temperatures, making it the perfect solution for the constant monitoring throughout the entire production process. Accessing data has never been easier than with the RFOT. Two-way wireless communication allows users to access real-time data without ever having to connect the logger to a computer.
Used in conjunction with the RFOT, MadgeTech's RFC1000 Cloud Relay transmits data instantly to the MadgeTech Cloud, giving users the power to view data instantly and remotely from any internet enabled device, anywhere in the world. Not only does the MadgeTech Cloud make it easy to keep a close eye on the product 24/7, but it also allows users set up email alerts and text notifications to fit the needs or each process!
For cooking cycles that require extremely high temperatures, meat processors turn to the HiTemp140 data logger series. Stop by the booth to see the rugged quality of these data loggers made of food-grade stainless steel, and able to withstand and record in temperatures up to 284 °F (140 °C). The HiTemp140 data loggers are completely submersible and are available with seven custom probe lengths to choose from.
Meat industry professionals rely upon the powerful features included with the MadgeTech 4 Software. The software streamlines the data, giving users the ability to create, charts, graphs and reports required for regulatory compliance. Meat processors benefit greatly from the cooling flag feature, which visually specifies when certain temperature requirements are met during cooling cycles, and can alert the user if the temperature fluctuates outside of the acceptable range during the period, preventing product loss or damage.
To get a feel for the data loggers and how they can make a difference in regulatory compliance and record keeping, stop by the TAMP Convention, Norman will be on hand to answer all data logging questions and help find the perfect solution based on your needs. We hope to see you at the show!
For more information on data loggers and MadgeTech Cloud Services for meat processors, please call MadgeTech at (603) 456-2011, or email info@madgetech.com.