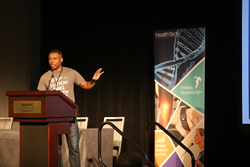 I am very excited to have the opportunity to speak about healthcare technology investment in Seattle next month...
SEATTLE, WA (PRWEB) August 03, 2016
The LESS Institute is pleased to announce that its founder, Dr. Kingsley R. Chin, will be speaking at the Seattle Science Foundation on Wednesday, August 17th, 2016. Dr. Chin will discuss a new, fast-growing paradigm to invest in what you consume: healthcare technology.
The Seattle Science Foundation conducts research seeking to move the medical field forward. They are constantly looking for new techniques and practices to make healthcare safer, more efficient, and more cost effective. They then seek to share their knowledge through seminars, lectures, and online webinars to educate and empower medical professionals.
Dr. Chin is a perfect candidate to speak, as his research on Less Exposure Surgery (LES®) techniques and healthcare align with Seattle Science Foundation's drive to advance healthcare technology. His LES Technology allows for shorter recovery times and avoidance of hospital stays, saving both patients and healthcare providers a significant amount of time and money.
"I am very excited to have the opportunity to speak about healthcare technology investment in Seattle next month," Dr. Chin said. "The Seattle Science Foundation is a great forum for the discussion of advancements in the medical field, and provides a platform to educate other healthcare providers in new areas of growth and investment. I am very grateful for the chance to share my knowledge and experience with other industry professionals who can apply them to their own efforts."
About LESS Institute
The Less Exposure Surgery Specialists (LESS) Institute is an academic center of excellence which provides outpatient treatment for spine and orthopedics. The LESS Institute's mission is to tailor treatment to each patient, to pinpoint the problem, fix it and let the patient go home the same day to recover quickly. It was founded by Harvard-trained, orthopedic spine surgeon and professor, Kingsley R. Chin MD, based on a new philosophy of Less Exposure Surgery utilizing the least invasive techniques and technologies to achieve the quickest and best outcomes.
About KICVentures
KICVentures Fund is focused on de novo investments, acquisitions and follow-ons in existing assets that it manages within the areas of healthcare and technology.