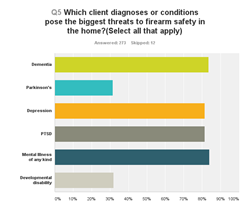 Discussing firearms, hunting stories, and war stories involving the use of firearms is a great way to bond with your client.
Tucson, AZ (PRWEB) August 03, 2016
The heightened awareness of the responsibilities of gun ownership and gun safety prompted the Aging Life Care Association™ to conduct a survey to learn whether their members discuss this topic when conducting their initial assessment. The survey of Aging Life Care Managers™ released today indicates that unsecured firearms, sometimes combined with a variety of diagnoses, is a safety concern of many professionals.
During the mid-summer survey (July 15-20, 2016) Aging Life Care Managers™ were asked if they include questions about firearms when interviewing prospective clients and, if so, how that affected their providing services in the home.
Fully 50% of those surveyed (141 of 282) said they include a question in their assessment regarding the presence of firearms. Some respondents said it was their employer's requirement to ask this question; others said it was as important as knowing about the client's driving ability, medications, alcohol or tobacco use, or potential sources of elder abuse. Many commented that they have not asked the question in the past, but will in the future. In addition,

52% require that firearms are securely locked up
10 % require that firearms be removed
1% decline services if firearms are present
Further findings show:

The majority of Aging Life Care Professionals found the frequency of guns in the house "Very Rarely" (31.2%) or "Sometimes" (27.2%).
The biggest threats to firearm safety in the home included diagnoses of dementia, depression, PTSD, or mental illness of any kind.
Most respondents said if there are firearms in the house they require that they are securely locked up (52%).
A very few (less than 1%) felt it was not appropriate to ask clients about gun ownership.
Overwhelmingly, respondents said they had to evaluate the safety implications of guns in the house on a case-by-case basis, citing cognitive functioning, medications, diagnoses, family dynamics, etc.
Several respondents recounted stories of suicides by clients that took place while professional caregivers were in the home. Said one Aging Life Care Manager™, "I had a client commit suicide after the family said all firearms were removed from the house. He had one hidden. He was terminal with brain cancer with metastasis." A similar circumstance was described by another care manager as "one of the worst days of my life."
The topic of guns can sometimes offer a positive influence in a client-care manager relationship. Said one care manager, "Discussing firearms, hunting stories, and war stories involving the use of firearms is a great way to bond with your client."
As the survey found, certain diagnoses can result in a dangerous environment both for the client and those working in the home. And even with professional supervision, mistakes can be made. One respondent described this case: "Client 92, former military. Family felt guns were out of the house. Professional guardian (former military herself) conducted detailed search of the home after appointed and assured me that there were no weapons in home. The client threatened to shoot the night caregiver but never produced a gun. However, while filling medication boxes and securing extra medications in a lock-box in a spare room, I found a handgun. Now I always assume there could be a weapon even if I am told there is not one."
The Aging Life Care Association (ALCA) does not take a position on guns or gun ownership. As a professional society, their purpose is to provide education, networking, and professional development to their members.
ABOUT the Aging Life Care Association (ALCA):
ALCA (formerly known as the National Association of Professional Geriatric Care Managers) was formed in 1985 to advance dignified care for older adults and their families in the United States. Aging Life Care Professionals™ have extensive training and experience working with older adults, people with disabilities, and families who need assistance with caregiving issues. They assist families in the search for a suitable nursing home placement or extended care if the need occurs. The practice of Aging Life Care™ and the role of care providers have captured a national spotlight, as generations of Baby Boomers age in the United States and abroad. For more information or to access a nationwide directory of Aging Life Care Professionals, please visit aginglifecare.org.