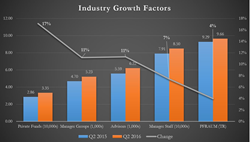 Convergence measures the overall health of the Industry by analyzing the data it collects and creates on 17,000+ Advisors and their 51,000+ Private Funds
Norwalk, CT (PRWEB) August 03, 2016
KEY CONVERGENCE GROWTH MEASURES

ALTERNATIVE MANAGER GROWTH: + 11%
ALTERNATIVE ADVISOR GROWTH: + 12%
HEADCOUNT GROWTH: + 16%
PRIVATE FUND COUNT GROWTH: + 13%
PRIVATE FUND ASSET GROWTH: + 4%
REGULATORY ACTION GROWTH: + 26%
PRODUCTIVITY DECLINE: - 7%
This Convergence Industry report focuses on Alternative Asset Managers with 50% or more of their Regulatory Assets in Private Fund Assets (alternative assets). This segment of the industry continues to grow by all measures tracked by Convergence. Headcount growth remains robust as managers added more staff to their back-offices to deal with increasing business complexity, a challenging regulatory environment and greater reporting and transparency required by their investors. Productivity is the only factor to experience a year-over-year drop driven by productivity losses driven by slower asset growth.
Convergence's Q2 2016 update on the Alternative Asset Management Industry provides original insights into the alternatives industry. Convergence measures the overall health of the "Industry" by analyzing the data it collects and creates on 17,000+ Advisors and their 51,000+ Private Funds. During the past 6 months, RIAs filed 24,000 Form ADV updates indicating a greater level of compliance with the SEC's guidance on filing updates upon the occurrence of material changes to their business model. More Advisors are filing more frequently and updating more sections of Form ADV than ever before.
For more detailed information, see the attached report, go to http://www.convergenceinc.com or call John Phinney, George Evans, or George Gainer at 203-956-4824.