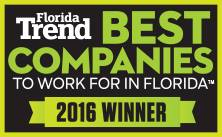 Our team of talented professionals drives our culture, so we thank them for their commitment to a passionate work environment
(PRWEB) August 02, 2016
Partners in Association Management (PIAM) has participated in the Best Companies to Work for in Florida program for the past several years. This year, they were again included in the list of The Best Companies to Work for in Florida.
The Best Companies to Work for in Florida program was created by Florida Trend magazine and the Best Companies Group and is endorsed by the HR Florida State Council. The annual Best Companies list is featured in the August issue of Florida Trend magazine. One-hundred companies are ranked in small, medium and large employer categories.
"PIAM is pleased to be recognized as a multi-year winner. Our team of talented professionals drives our culture, so we thank them for their commitment to a passionate work environment," says CEO of the company Bennett Napier, CAE.
Companies that chose to participate underwent an evaluation of their workplace policies, practices, philosophy, systems and demographics. The process also included a survey to measure employee satisfaction. The combined scores determined the top companies and the final ranking.
"Top companies provide excellent pay, health insurance, 401k plans and other "hard" benefits, but they also offer the leadership and communications that encourage employees to participate in the organization's overall success," says Florida Trend Publisher Andy Corty.
About Partners in Association Management and PS Squared:
Partners in Association Management just celebrated its 18th anniversary. The company was founded in 1998 by its current CEO Bennett Napier and has 34 full-time equivalents.
Partners provides full service association management to state, regional and national not for profits including strategic leadership, membership recruitment and retention; financial management; publication management; convention and educational seminar management; certification program development and management and more. For more information on the firm, visit http://www.yoursearchisdone.com