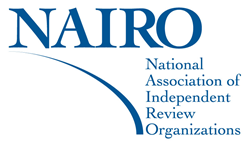 "IROs and other stakeholders must work together to ensure that all stakeholders, from health plans to consumers, benefit from impartial, evidence-based medical review and we must continue to adhere to strict standards of excellence." - Gib Smith
Portland, OR (PRWEB) August 03, 2016
Today the National Association of Independent Review Organizations (NAIRO) released a set of guidelines outlining the path forward for an optimally functioning independent medical review process, a key component of evidence-based health care provision.
The white paper, Understanding the Vital Role of Independent Medical Review and Utilization Review Services, identifies timely issues impacting the independent medical review process, including recent litigation, that are significantly impacting the process of independent medical review.
A fair and efficient independent review process is vital to impartial, evidence-based medical reviews for all stakeholders, including independent review organizations (IROs), health plans and consumers.
"We are at a landmark time in the field of independent review," said Gib P. Smith, Executive Director of NAIRO, which is comprised of the majority of URAC-accredited IROs. "IROs and other stakeholders must work together to ensure that all stakeholders, from health plans to consumers, benefit from impartial, evidence-based medical review and we must continue to adhere to strict standards of excellence."
The white paper lists eight leading challenges that are impacting independent review, including the overall underutilization of medical review services, a perceived conflict of interest and a lack of awareness of medical reviewers' qualifications.
"NAIRO and its member organizations are committed to taking proactive steps to resolve these barriers," added Smith. To that end, the white paper outlines ongoing efforts from NAIRO and its URAC-accredited member organizations aimed to overcome these impediments. The white paper describes solutions, legislative outreach and a core series of best practices that IROs are currently and will continue to adopt.
The full white paper is available here:
About NAIRO
NAIRO (The National Association of Independent Review Organizations) was formed by the majority of URAC-accredited IROs. The mission of NAIRO is to promote the quality and integrity of the independent review process at the internal and external levels. Utilizing the expertise of board-certified clinicians throughout the country, NAIRO members embrace an evidence-based approach to independent medical peer review, in order to help resolve coverage disputes between enrollees and their health plans. More information can be found at http://www.nairo.org