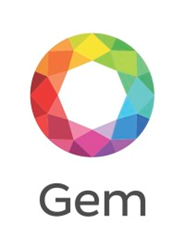 Nashville, TN (PRWEB) August 03, 2016
Today, Gem and BTC Media announce Gem as the title sponsor for Distributed: Health, a first-of-its-kind conference exploring the edge of innovation in healthcare. Healthcare is in the midst of a technological shift, placing greater emphasis on critical data and the systems that manage it. Blockchain technology is one of the most innovative and potentially ubiquitous technologies ever created. Distributed: Health will bring these together with industry leaders to discuss its impact on the future of health services and information.
"Healthcare is experiencing a tech renaissance, a shift towards a patient-centric, interconnected and data-driven ecosystem. Gem is ready to deliver blockchain technology to healthcare, to provide pipelines that make data more available with uncompromised security and integrity," says Micah Winkelspecht, CEO and Founder of Gem.
Distributed: Health kicks off with a hackathon sponsored by Gem, where the company will provide GemOS, a complete blockchain application platform, for competitive development. This will be the first time Gem opens its platform to the public, and they will award $5,000.00 to the best implementation. The hackathon takes place on Saturday, October 1 and Sunday, October 2 and will be judged by a panel of venture capitalists, executives and technologists who will award a total of over $20,000 in prizes to the most promising new applications built with blockchain technology.
"This hackathon will provide the setting for teams from corporate titans, blockchain startups and top universities worldwide to collaborate on some of the biggest challenges facing companies today including identity, data integrity and systems interoperability," said Tyler Evans, CTO of BTC Media.
During the one-day summit-style conference, taking place October 3rd at Nashville's Schermerhorn Symphony Center, Winkelspecht will deliver a keynote presentation entitled, "Blockchains: The Fabric for an Interconnected Healthcare Continuum." The speech will explore how blockchain networks can be implemented to achieve data interoperability and what that means for the future of healthcare.
Registration for the conference is open with early bird tickets, speaking opportunities and sponsorship are still available.
To conference inquiries, please contact Tyler Evans at BTC Media tyler(at)btcmedia(dot)org or call (615) 454-4861.
For media inquiries, please contact Nancy Gutierrez at Melrose PR Nancy(at)melrosepr(dot)com or call (310) 260-7901.
About Gem
Gem's blockchain application platform transforms how companies and industries connect to solve impossible problems. Gem's platform applies blockchain technology to identity, data, logic and network management across multiple industries, including finance and healthcare. Gem is based in Venice, California and was founded by Micah Winkelspecht, CEO, in 2013.
About Distributed: Health
Distributed: Health is a groundbreaking forum for healthcare leaders from around the world to explore the impact of blockchain technology and distributed ledgers on the healthcare industry. Distributed: Health is hosted by BTC Media, the world's largest provider of information and education about the digital currency and blockchain industries. BTC Media also publishes The Distributed Ledger, a weekly email newsletter about blockchain technology.