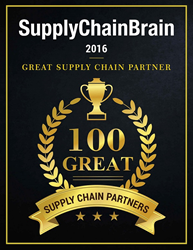 "We wouldn't be here today without their continued partnership in tackling and solving their biggest logistics challenges and we look forward to continuing the collaboration." Bob Fischer, president and CEO of ADSI
Schaumburg, IL (PRWEB) August 04, 2016
ADSI, an industry leading provider of flexible logistics solutions, has been named as one of SupplyChainBrain's 2016 100 Great Supply Chain Partners. The list of the top one hundred Great Supply Chain Partners features a select group of companies whose customers have recognized them for providing outstanding solutions and services.
"We're proud and honored to receive this prestigious award through nomination by our customers," said Bob Fischer, president and CEO of ADSI. "We wouldn't be here today without their continued partnership in tackling and solving today's biggest logistics challenges and we look forward to continuing the collaboration."
Each year, SupplyChainBrain conducts a six-month online poll to ask supply chain professionals to nominate vendors and service providers whose solutions have made a significant impact on their company's efficiency, customer service and overall supply chain performance.
"This year we received literally hundreds of nominations for solutions providers in every aspect of supply chain management," said Brad Berger, publisher of SupplyChainBrain. "ADSI should be proud to be amongst the 100 Great!"
ADSI appears in the latest issue of SupplyChainBrain magazine as a celebrated member of this year's 100 Great Supply Chain Partners.
About ADSI
Smart Shipping Made Easy. Advanced Distribution Solutions, Inc. (ADSI) is an industry-leading provider of order fulfillment, dimensioning and multi-carrier shipping solutions for manufacturers, distributors, online retailers, third party logistics providers (3PLs) and others. For more information, visit http://www.adsionline.com, call us at 847.884.1940 or send us an email at: info(at)adsionline(dot)com or follow on Twitter, @adsionline
About SupplyChainBrain (http://www.supplychainbrain.com)
SupplyChainBrain, the world's most comprehensive supply chain management information resource, is accessed year round through a wide range of ever evolving multi-media formats by hundreds of thousands of senior level industry executives. In addition to addressing the fundamental principles of supply-chain management, SupplyChainBrain identifies emerging trends, technologies and best practices, forward thinking ideas and cutting-edge solutions ~ and continues to write and report about these as they evolve and mature.