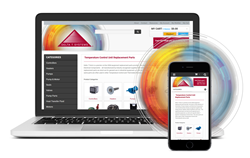 Richfield, WI (PRWEB) August 08, 2016
Delta T Systems, a leader in the manufacturing of water and oil temperature control equipment as well as, portable air and water cooled chillers, has a new E-Commerce, mobile responsive website to better serve their customers and their replacement parts business.
Delta T Parts is a premier on-line OEM equipment replacement parts provider. They stock a wide selection of controllers, pumps, heaters and electrical components - all manufactured by industry recognized suppliers like Viking, Omron, Watlow, ASCO, Paratherm and more. The replacement parts they stock are for general use in industrial equipment, as well as for specific Delta T Systems' temperature control units. The same parts are often used in other competitive temperature control and Thermolator® units as well.
It's easy to find and purchase replacement parts on their enhanced and secure website. Customers can search by the Delta T part number or by the original component manufacturer's part number. In addition, the new website offers a 'compare products' feature as well as PDFs that can be downloaded for programming and general maintenance. In stock parts purchased online from Delta T Parts will often ship the same business day and are typically below average retail cost.
To view our catalog or place an order, please visit Delta T Parts online or call us at (800) 733-4204. Between 8:00am and 4:30pm CST you can always reach a live person to help with your purchasing or troubleshooting needs. Delta T Systems is proud to offer net 30 terms for qualified businesses.
About Delta T Systems
Delta T Systems, located in Richfield, WI, has dedicated itself to one single discipline, process temperature control. Since 1990, Delta T Systems has helped production systems run more efficiently, thanks to their 160 years of combined experience, knowledge, and engineering know-how.
Delta T Systems manufactures Water and Oil Temperature Control Equipment, as well as, portable air and water cooled chillers. Their full line of system solutions are available in many sizes to fit all process needs, with temperature control ranges from 20°F (7°C) up to 650°F (343°C). Incorporating sound fundamental engineering principles ensures that users receive accurate and reliable temperature control and years of unmatched performance. Delta T Systems, American made, high quality units are competitively priced and will perform to spec for a wide variety of industries and applications.
For more information on Delta T Systems please visit their corporate website.