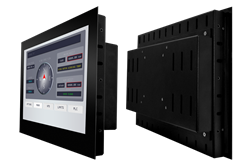 Eliminates integration difficulty, lowers engineering cost, and reduces time to market.
Austin, Texas (PRWEB) August 04, 2016
Touch International, a global leader in industrial touch screen and display solutions, has released its OFM-Series of open frame touch screen monitors. The plug-and-play monitors feature multi-touch projected capacitive (PCAP) touch screens, industrial grade components, and powder coated steel frames with versatile mounting options, and can be completely customized for any application.
Standard configurations include required power supply and video cables. Multiple video input options and USB-powered touch screen comes standard for plug-and-play operation out of the box. Two VESA mounting options on the back, as well as adjustable side mounting flanges further maximize ease of integration into an enclosure, cabinet, console, wall, kiosk or other applications. The black powder coated steel enclosure provides the fit and finish of a custom product with the strength and durability to protect your investment for years of worry free operation.
The first two monitors in the series are the 10.1" and 12.1" widescreen sizes. Both feature 16.7 million color industrial displays with extended temperature operation, HDMI, VGA, and DVI input, optically bonded PCAP touch screens, and polished, chemically-strengthened cover glass with black graphics. Full specs are available on Touch International's website.
All of the open-frame monitors can be highly customized to fit any application through Touch International's vertically integrated manufacturing capabilities. Options include sunlight readability, night-vision (NVIS), SBC or media player integration, water resistant and gloved touch, custom cover glass and graphics, touch technology, ruggedization, anti-fingerprint coatings, and more.
"The addition of the OFM multi-touch open-frame monitor line exemplifies the company's strengths and experience in touch display manufacturing," stated Shaun Detmer, Director of Marketing at Touch International. "We've combined decades of continuous improvement, vertical integration, and customer feedback to create a versatile solution that exceeds the demands of industrial markets while eliminating integration difficulty, lowering engineering cost, and reducing time to market."
The OFM-Series will cover sizes from 10.1" to 24" with plans to further expand offerings in 2017 and increase. For additional information or purchase requests, as well as distribution or volume pricing inquiries, contact Touch International directly by calling 512-832-8292, or email sales(at)touchintl(dot)com.
About Touch International
Touch International, headquartered in Austin, Texas, was founded in 2002 by Michael Woolstrum and long-time touch screen veteran, Gary Barrett, the company's CTO. TI has become a world leader in professional grade touch screen display manufacturing. The company operates its corporate headquarters and R&D center in Austin, Texas, and its high volume vertically integrated production facility in Shenzhen, China.