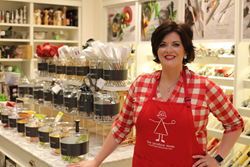 It is thrilling to be invited back to Williams-Sonoma as a headliner. We look forward to kicking off the 'Power Up with Produce' tour in Cincinnati. --Lori Taylor
Indianapolis, Indiana (PRWEB) August 04, 2016
Lori Taylor, owner and founder of The Produce Mom®, will headline a series of live cooking shows at Williams-Sonoma stores in the Midwest.
The Produce Mom's live cooking show, Power Up with Produce, debuts on Saturday, August 6, 2016 at Williams-Sonoma in Cincinnati, Ohio. Saturday's show will be targeted to college-bound teens and will demonstrate how to turn accessible fruits and vegetables from the produce department or campus convenience store into quick and easy dorm room meals. The live cooking show includes promotion of Sage Fruit's Skinny Apple Turnover recipe, Wada Farm's Easy Baker™ and Microwave in Bag™ microwavable potatoes, and NatureFresh™ Farms' new snacking tomato, TOMZ™.
"The Produce Mom was honored to be Chadwick Boyd's guest for his Midwest stops on the national Entertaining with Vegetables tour at Williams-Sonoma during the spring 2016," explains Taylor. "It is thrilling to be invited back to Williams-Sonoma as a headliner and showcase the many ways we can power up recipes with produce."
Pottery Barn Teen will also participate and be on-site at Williams-Sonoma for The Produce Mom's Power Up with Produce: Dorm Room Cooking show on August 6, 2016. During the live event, which runs from 1pm – 4pmEDT at Kenwood Towne Center Mall, Pottery Barn Teen and Williams-Sonoma will offer a trunk show and shopping incentives showcasing their dorm room living collections.
"Because back-to-school coincides with Washington apple season, we are always looking for ways to promote our fruit to students and households," explains Kaci Komstadius, Social Media Director at Sage Fruit. "This is one of Sage Fruit's first opportunities to target college-bound students; the Skinny Apple Turnover recipe is ideal for dorm room cooking."
Eric Beck, Director of Marketing at Wada Farms, offers his praise, "The Produce Mom continues to provide Wada Farms with ways to connect with consumers and unique promotional opportunities. We are thrilled to have our potatoes and sweet potatoes included in the Power Up with Produce Tour at Williams-Sonoma."
The Power Up with Produce live cooking shows at Williams-Sonoma are free and open to the public. More details are available on The Produce Mom website. The shows will also be live streamed through The Produce Mom's Facebook page.
About The Produce Mom®
The Produce Mom is an advocacy brand for the fresh produce industry: inspiring families to eat more fruits and vegetables, introducing consumers to produce brands, rallying the produce industry to converse with the consumer, and promoting policy to protect and increase the availability of fresh produce at American schools.