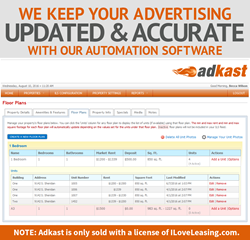 With Adkast data feeds, we are enabling renters to see accurate real-time rentals aggregated on a single platform. Syed Saleheen, Oliver Operations
DALLAS, TX (PRWEB) August 11, 2016
Adkast advertising syndication, publishing software, works exclusively through I Love Leasing Apartment Customer Relationship Management software (CRM) from Spherexx.com®. Adkast empowers users to create and publish impressive online advertisements, update product information and introduce live availability through Internet advertising sources and listing services, from one platform with a single broadcast.
AdKast has recently partnered with Oliver (http://www.getoliver.com), a New York-based tech startup, to drive renters towards available apartments in an innovative, user-friendly, and seamless way.
Syed Saleheen, Oliver Operations and Business Development, explains: "Oliver is a platform that aims to connect renters with apartments by allowing users to filter open rentals based on a number of criteria (such as neighborhood and amenities), schedule showings at the tap of a button, and ultimately apply to rent apartments of interest, all in one place. We see a huge mutual benefit here: by providing them with Adkast data feeds, we are enabling renters to see accurate real-time rentals aggregated on a single platform; and likewise, Oliver not only drives potential renters to properties coming through the AdKast system, but also saves property managers and landlords the time and effort normally expended handling vast quantities of consumer questions. By sitting at the middle of supply and demand in the rental market (currently in New York only, but expanding soon), Oliver has become a key partner in getting customers through the door to the many open apartments that AdKast broadcasts on a daily basis, including those at Stuyvestant Town / Peter Cooper Village."
Adkast updates pricing, product details, special offers, photos, fees and policies. Ad responses are independently tracked and correlated through the program, therefore eliminating the need to combine reports from multiple advertising sources to determine results. Adkast also delivers public transportation information, and a product synopsis with a detailed features overview. Much of the advertising content is automatically updated through the I Love Leasing CRM feed. Pricing features are very flexible, offering the ability to price an individual unit using a manual override, or distinguish a specific floor plan or location. Users can offer a special price and advertise an open house for a determined length of time without making changes within their accounting software.
Adkast is only sold as an optional add-in to Spherexx's I Love Leasing Apartment CRM. I Love Leasing integrates in real time with all major accounting software programs and services to eliminate dual data entry, improve accuracy and generate optimal reporting. The software consolidates leads into a sophisticated dashboard whereby users connect with prospects via branded media, schedule follow-ups, update status and events, and track and record phone calls. Adkast likewise integrates through the I Love Leasing platform to broadcast real time accounting based pricing and revenue management optimized rates when a revenue management software is engaged.
The CRM reports best return on investment per advertising source, cost per lead, cost per lease, prospect demand demographics, personnel activities, prospect behavior and detailed lead data and event tracking. It can also be implemented with a broadcast email companion software (Emailkast), dynamic number identification (DNI) for compound lead attribution disclosure, and it integrates with Rent Push and other revenue management software. The program delivers pricing quotes for individual units, sends alerts and notifications as well as a digital brochure and customized email content that establishes brand identity and encourages customer engagement.
I Love Leasing includes a mobile application companion with each subscription. It also provides a portable dashboard application, Sweet Spot Dashboard, that creates access to cloud based software and leasing tools for on-location leasing. The program is also integrated with Leasing Book, a tablet application that equips users with I Love Leasing anywhere there is Internet access. Leasing Book also includes a stand-alone point of sale application.
Adkast now offers broadcast syndication to 46 sources, with others underway, including:
AEON Virtual | Agorafy.com | Apartable.com | ApartmentFinder.com/Costar.com | ApartmentGuide.com/RentPath | ApartmentHunterz.com | ApartmentList.com | Apartments.com | CityRealty.com | CitySpade.com | ForRent.com | HomeSwipe.com | HotPads | HousingBlock.com | HutHunt.com | iRent.com | LevelOne | LiveLovely.com | Miller Volpe | Move.com | NakedApartments.com | Nestigator.com | Nestio.com | NYBits.com | NYTimes.com | Off Campus | OLR | OnRadPad.com | OVLIX | RDNY | Realtor.com | Rent.com | RentalAds.com | RentalBeast.com | Rentbits.com | RentHop | RentJungle.com | Resident360 | StreetEasy | Sublet.com | Trovit.com | Trulia | UrbanEdgeNY.com | Zillow Zumper
ABOUT SPHEREXX.COM® AD AGENCY | SOFTWARE DEVELOPMENT | BUSINESS INTELLIGENCE
Spherexx.com® is an award-winning, full service advertising agency that serves thousands of clients nationally, providing cloud-based marketing technology to meet the demand for integrity, imagination, innovation, and results-driven website design and software solutions. It is a one-stop shop for marketing and management tools; possessing the talent, experience, and creative ability to customize workflow to meet their clients' unique goals through adapting website communications, and to capture their message with spectacular graphic artistry.
Spherexx.com® offers a wide selection of professional services including web design and development, touchscreen kiosks, Internet lead generation tools, online advertising, consulting, advanced mobile technology, apartment lease-up marketing consulting, and search engine performance. The company also provides branding services, video/multimedia production, print media, and copywriting, as well as website and email hosting, database solutions, pay per click, e-commerce solutions and custom programming.
The company has developed CRM (customer relationship management) software products, marketing and lead generation tools that increase income and reduce expenses. These applications are branded under ApartmentWebsites.com™, MessageKast.com™, ILoveLeasing.com®, MarketSurveyTools.com™, RentPush.com® Revenue Management Asset Optimization, LeasingBook mobile application, ApartmentCommissionTracking.com and RentIntel™ Business Intelligence.