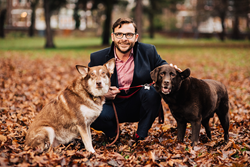 dog owners were the keenest to spend time with their pets – 70 per cent said they'd prefer to stay in with pets than meet new people, 13 per cent above the average of all pet owners
(PRWEB UK) 9 August 2016
A new YouGov survey carried out on behalf of global pet insurance technology integrator Aquarium Software has shown that a staggering 57 per cent of British pet owners would prefer to spend time at home with their pets rather than go out and make new friends. According to Mark Colonnese, sales and marketing director of Aquarium, the findings show just how much our pets really matter to us.
"For a majority of pet owners to choose pets over people shows how much we enjoy the company of our animals. They may not be able to talk – but perhaps that is why we like them so much," Mark says. "The results showed higher percentages choosing to stay in with their pet over going out and meeting new friends across age, regional and demographic boundaries, showing that as a nation, we really are infatuated with our animals."
The survey findings also demonstrated that dogs really are man's (and woman's) best friend. Of all pet owners, dog owners were the keenest to spend time with their pets – 70 per cent said they'd prefer to stay in with pets than meet new people, 13 per cent above the average of all pet owners, and also significantly higher than cat owners, only 59 per cent of whom said they'd prefer to stay with their pets. Whether dogs simply make better company than cats, or whether dog owners are as loyal as their pets, it is clear that our pooches mean the world to us.
"As a dog owner I might be slightly biased, but with the amount of joy dogs bring, coupled with their loyalty, it's no surprise to see just how popular they are with their pet parents." Mark says. "I don't think anyone's really guilty of underestimating the bond between pet and owner, but this research shows just how strong it is. I would urge anyone working in the pets market – from vets right through to insurance providers – to take account of this in future. It looks like humans still have a lot of work to do before they replace pets in our hearts!" Mark concludes.
Aquarium's pet insurance solution is currently being implemented by a number of key pet insurers, and affinity partners in the UK, Europe, USA and Canada. For further information contact Aquarium Software on +44 (0)161 927 5620 or visit http://www.aquarium-software.com