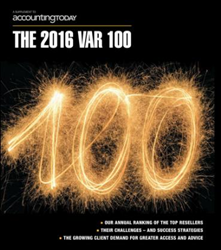 DALLAS, TX & CHICAGO, IL (PRWEB) August 09, 2016
MicroAccounting, a leading financial and business management software value-added reseller (VAR) based in Dallas and Chicago, along with mobile and development division xkzero moved up a notch to a 48th place spot in Accounting Today's 2016 VAR 100. Rankings are solely based on FY 2015 revenues for VARs and technology consultants.
Executives from several top 100 VARs spoke with Danielle Lee, editor of Accounting Today about what they find keeps their companies ahead of the curve. As a trend, it not only comes down to providing the technology required by customers, but some cited the importance of offering a consultative role to navigate all the available options.
This resonates with MicroAccounting president Bill Harris, who says, "Our consultants are well-versed in MicroAccounting's growing array of offerings. This includes Sage ERP staples, the cloud-based Acumatica and Intacct systems, and our own business intelligence solutions, customizations and ever-evolving integrated mobile technologies."
MicroAccounting keeps up with the changing requirements of businesses, and adapts to meet these challenges. Thus far in 2016, they already note a growth in demand for mobile route sales and delivery apps by xkzero, and an increasing interest in human resources and payroll solutions. The company also continues to respond to a need for detailed, comprehensive analytics in real-time with business intelligence and reporting tools.
In the 2015 VAR 100 report, Lee mentioned that the right talent is necessary to stay competitive. Bill Harris says, "In the last year, we have brought on key employees with specialties that serve our client needs. We are already seeing success with mobility, payroll and HR, cloud and hosting segments. Our people truly make the difference!"
About MicroAccounting
MicroAccounting is a leading consulting and technology firm that has improved the success of more than a thousand businesses by increasing productivity and decreasing costs. As one of the largest Sage partners in the nation, MicroAccounting offers expertise in Sage 100, Sage X3, Sage 500 ERP, Sage HR and Sage Payroll. To answer the growing need for cloud ERP, MicroAccounting has formed partnerships with Acumatica and Intacct, and offers its own hosting services. The company also has a history of innovation, with more than 12 years of experience developing mobility solutions and other technological services through xkzero.
The company has 28 years tenure helping businesses optimize operations through consulting, software selection, implementation, project management, and training. In addition, MicroAccounting provides first-class technical support, business process evaluation, and assistance in integrating other business management systems. Main offices in Dallas and Chicago represent markets nationwide.