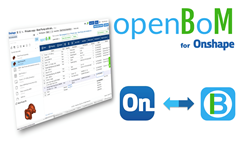 an industry first ability to link CAD design with BOM management
Newton, MA (PRWEB) August 15, 2016
openBoM, the world's first cloud BOM management tool specifically designed to help manufacturing companies manage and track BOMs across organizational and geographic boundaries is now available as an app seamlessly integrated within the Onshape environment, the world's first full cloud CAD solution. openBoM addresses the pain of data handover between design environments (CAD) and engineering environments (BOM). Onshape users now have a means to improve processes linking design and engineering by having direct access to a flexible BOM management and collaboration tool built directly into their design environment. Moreover, openBoM's unique collaborative capabilities and integration with other MCAD and ECAD systems expands Onshape BOM management and enables multidisciplinary BOM support and integration with suppliers and contract manufacturers.
Available now in the Onshape App Store as an integrated app, openBoM provides Onshape users in addition to it's unique BOM management and collaboration features, the following:

Ability to create a shareable BOM within an Onshape document;
Access to the openBoM BOM editor directly within an Onshape document tab;
Generate a BOM from an Onshape workspace with various assemblies and parts options;
Create new and edit existing BOM properties;
Bi-directional update of Onshape data attributes and openBoM properties; and
Share a BOM within Onshape and collaborate with others, even with non Onshape users.
"We are happy to offer Onshape users improved data handover between their designs and Bills-of-Materials," said Oleg Shilovitsky, CEO and Co-founder of openBoM, "by providing a uniquely flexible BOM management and collaboration tool to manage BOMs and at the same time, support real time collaboration and simultaneous BOM editing." "openBoM's BOM management tool integrated within the Onshape environment will give our users an industry first ability to effectively link their CAD designs with BOM management," said Joe Dunne, Partner Program Manager at Onshape.
About Newman Cloud, Inc. and openBoM.
Newman Cloud, Inc. was co-founded by Oleg Shilovitsky and Vic Sanchez, both experienced software industry veterans. openBoM, a wholly owned and branded product of Newman Cloud, Inc. is a cloud data management tool that removes the traditional pain of managing BoMs across organizational and geographic boundaries. Newman Cloud, Inc. is headquartered in the Boston, MA area. openBoM's website is at http://www.openbom.com. Learn more how openBoM is the new alternative to BoM spreadsheets. For more information or questions please contact vic(at)openbom(dot)com.
About Onshape
Onshape is the only company in the world 100% focused on cloud and mobile CAD, offering the first professional 3D CAD system that lets everyone on a design team work together using any web browser, phone, or tablet. Onshape was built from scratch for the way today's engineers, designers and manufacturers really work, giving them secure and simultaneous access to a single master version of their CAD data without the hassles of software licenses or copying files. Based in Cambridge, Massachusetts, Onshape includes key members of the original SolidWorks team plus elite engineers from the cloud, data security and mobile industries. For more information, visit Onshape.com/press-room.