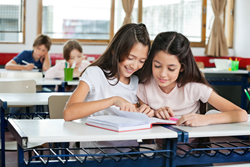 By catching infestations in the early stages we are helping more children stay in the classroom.
Miami, Florida (PRWEB) August 16, 2016
According to ABC 6, East Tennessee Children's Hospital lists head lice in the top five common illnesses spread at school and with the school year approaching, it's important for parents to take necessary precautions.
Head lice are a parasitic pest that often plague school-aged children and their families. The little bugs have been causing a big ruckus recently, as super lice spread across the nation and school districts go back and forth between No-Nit Policies. This has left parents in a frenzy, looking for ways to keep the critters out of their kids hair and out of their homes.
In South Florida, one company has the solution. "Prevention is key when it comes to head lice, especially in schools," stated Arie Harel, Owner of Lice Troopers, an all-natural head lice removal company. The company partners with local schools to educate administrators and students about preventing head lice epidemics. In addition, they conduct regular head lice screenings at partnering schools to catch lice infestations before they become epidemics.
"Our school partnerships are important because by catching infestations in the early stages we are helping more children stay in the classroom versus at home battling head lice infestations throughout the school year," says Harel.
Additionally the company offers prevention information and products specifically for families. "We consider ourselves a resource for head lice in our community, so we are loaded with information and tips for preventing lice and we're happy to share it." Lice Troopers recently launched their Live Chat feature on their website for clients to have access to quick answers about head lice, prevention, and treatment services. They also have an all-natural line of lice prevention and treatment products available for purchase in their treatment centers and online.
Lice Troopers is the all-natural, guaranteed head lice removal service that manually treats and removes head lice safely and discreetly in child-friendly treatment centers, or other chosen location. Providing safe solutions for frantic families, the Lice Troopers team has successfully treated thousands of families with pediatrician-recommended services that may be reimbursed by many major health insurance carriers, flexible spending accounts and health savings accounts.