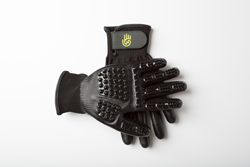 SuperZoo's recognition shows us that we are one step closer to making a difference within the pet community.
Las Vegas, NV (PRWEB) August 09, 2016
HandsOn®, a set of grooming and bathing gloves that pet owners use to bond and clean their animals, won third place for "Best New Product" in the grooming category at SuperZoo.
Over 700 new pet products were featured by exhibitors, all of which were competing for the "Best New Product" title as part of the New Product Showcase that took place on Wednesday, August 3 at 3:30 p.m. Pacific Time in Las Vegas.
"At HandsOn, we've worked hard to produce a product that bonds pet owners and animals together through the power of touch," said Jay Michaelson, CEO of HandsOn. "SuperZoo's recognition shows us that we are one step closer to making a difference within the pet community. We are so happy to have launched our product here this year."
Unique in nature, HandsOn grooming and bathing gloves are as natural as petting. It provides an enriching bonding experience for pets and their owners by eliminating the need for chunky grooming accessories. The grooming gloves can be used on many types of animals such as dogs, cats, horses, donkeys, goats and more can benefit. HandsOn can be used wet or dry, are great for animals with sensitive skin, and provides a massage to increase pets' circulation.
New Product winners were announced in eight categories – Aquatics, Bird, Cat, Dog, Equine, Grooming, Reptile and Small Animal. Voting for the best new product in each category took place onsite at SuperZoo on August 2, 2016. Attendees voted to ensure an unbiased selection was made, it also allowed participants to evaluate new products within the pet industry.
SuperZoo was produced by the World Pet Association (WPA) and held at the Mandalay Bay Convention Center in Las Vegas on August 2 through August 4, 2016. The event featured the most exhibitors of any pet retail show in North America this year.
To read more about HandsOn, please visit http://www.handsongloves.com.
About HandsOn
HandsOn takes an innovative approach to providing the highest-quality in grooming products to the world's top trainers, athletes and the everyday animal lover. They offer a unique bonding experience to a community that believes family and animals come first. The grooming gloves provide the utmost in professional excellence while allowing pet owners hands to stay clean and give their animal(s) extra tender loving care.
For more information visit: http://www.handsongloves.com
About SuperZoo
SuperZoo is the most popular trade show for the pet retail industry in North America and provides independent pet store owners with the knowledge and resources they need to be successful. For the sixth consecutive year, SuperZoo has grown in exhibitor space and square footage and was listed a Trade Show Executive's Gold 100 trade event in 2014. Produced by the World Pet Association (WPA), the show attracts thousands of retailers, product suppliers and service providers at each annual event.
For more information visit: http://www.superzoo.org