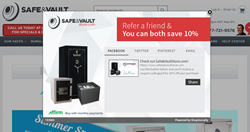 ShopSocially has been an extremely critical component of our overall marketing and promotional efforts ever since we started using their business solutions. - Desiree Bryant, Director of Marketing, Sales, & Ecommerce at Safe & Vault Store
Santa Clara, CA (PRWEB) August 09, 2016
ShopSocially is pleased to reveal yet another success story relating to their popular online referral app, Refer-a-Friend. The company confirms that Safe & Vault Store, a noted retailer for safes and security products, has been able to achieve an extraordinary sales conversion rate of 7.83% from referral traffic using Refer-a-Friend solution. Around 1.36% of the website visitors who discovered the app ended up referring their friends through it. Referral traffic generated from these referral posts was instrumental in achieving the sales conversion rate of 7.83% for Safe & Vault Store.
ShopSocially's Refer-a-Friend app has been designed to acquire referrals at both pre-purchase and post-purchase stages of a customer's purchase cycle. Safe & Vault Store has leveraged this opportunity perfectly by offering a 10% discount coupon to the referrer and his friend. The attractive incentive together with strategic placement of referral interface resulted in driving more sales from new visitors or existing customers and bringing genuine traffic to their site at the same time. Refer-a-Friend app allows businesses to add customizable referral programs on their website, mobile or via Facebook, email, etc. Some of the most appreciated features of this app include one-click sharing on the most popular social channels, a private refer-a-friend link, comprehensive incentive options, mobile-friendly design, analytics, customizable layout, and much more.
Safe & Vault Store also received excellent results with ShopSocially's Get-an-Email app. This app provides an opportunity for the website visitors to earn an incentive in exchange for becoming email subscriber. Using this app, several businesses have doubled their email subscriber count in just few months. Its high conversion rate can be attributed to the flexible incentives such as single-use coupons, sweepstakes, etc. Safe & Vault Store confirms that they have been able to convert 5.55% of their site visitors into email subscribers using this app.
In addition to Refer-a-Friend and Get-an-Email, Safe & Vault Store is also a satisfied user of ShopSocially's Get-a-Fan app. This app is designed to encourage the site visitors to engage in social actions. This app has helped Safe & Vault Store convert almost five percent of their visitors into qualified Facebook fans. This is a great alternative for businesses looking to build a robust Facebook fan acquisition strategy without spending a fortune.
Highlighting the quality of service received from ShopSocially, Desiree Bryant, the Director of Marketing, Sales, & Ecommerce at Safe & Vault Store, stated, "ShopSocially has been an extremely critical component of our overall marketing and promotional efforts ever since we started using their business solutions. The results delivered by their different apps speak volumes about the company's commitment towards delivering world class marketing solutions in today's rapidly changing business scenario."
Samir Palnitkar, the President of ShopSocially, has also expressed pleasure about the quality of service delivered by the company to Safe & Vault Store. "It is a great feeling to know that our solutions are delivering genuine results for our valued clients. These are the success stories that inspire us to come up with cutting edge e-commerce and social media solutions," he said.
About Safe & Vault Store:
An online retailer of safes and security products, Safe & Vault Store is the part of an organization originally chartered in 1902 called Spokane Safe & Lock that specialized in selling and servicing small safes as well as key and locksmithing services. Later on, the company expanded its products and services to include bank security products such as vault doors, safe deposit boxes, night depositories and custom safes. They also sell, install, and service products such as access control, alarm and fire systems, video surveillance and sophisticated networked security equipment: https://www.safeandvaultstore.com/
About ShopSocially:
ShopSocially is a SaaS-based, social, referral and loyalty marketing platform that delivers up to 40% more revenue by enabling an increase in new customer acquisition, engagement, conversion rate and retention. More than 500 global brands are using ShopSocially to grow their business via proven strategies such as referral marketing, visual commerce, customer loyalty, social login, social gamification, customer Q&A and more.
ShopSocially platform offers a comprehensive suite of marketing solutions which eliminates the need to implement multiple, inconsistent solutions and delivers a measurable ROI. Our fully managed service option ensures no additional work for your marketing or IT team.
ShopSocially has won several awards and recognition's for its innovative technology. To learn more how ShopSocially can help grow your business, please contact us at (650) 701-7759 or at http://www.ShopSocially.com