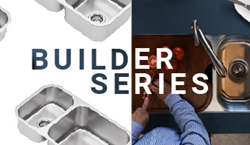 Stainless steel has remained the most popular kitchen sink material due to its durability.
Toledo, Ohio (PRWEB) August 11, 2016
In today's kitchen sink market the selection of basins is vast; made from a variety of materials and seemingly filling every possible niche requirement. In the not-too-recent past, only a handful of sizes, formats, and materials were available. Today, everything from new composite materials to rare metals are being used to offer fresh looks and special benefits. Sizes stretch to fill big needs and shrink to fit small spaces. Yet, while all these options are viable and growing in popularity; it's the conventional stainless steel kitchen sink, of moderate size, which has continued to suit the taste of most consumers.
The MR Direct 3218s, known as the Builder Series, are top sellers. All models have the same overall size of 32 ¼" x 18"; but are divided up into three configurations. The A model has two equal-sized bowls, the B model has two unequal-sized bowls, and the C model is a single basin.
Stainless steel has remained the most popular kitchen sink material due to its durability. Constructed of superior 304-grade stainless steel, at a firm, 18-gauge thickness; any of the 3218 models will stand up to a reasonable amount of abuse. A dropped dish will not chip it; a spilled glass of wine will not stain it; and the foul-odors of debris left in it will not linger. Further, sound dampening pads diminish any noise and an undercoating prevents condensation.
The functionality of the 3218 is evident in all of its three formats. The equal-sized, nine-inch deep bowls of the 3218A provide plenty of room to divide chores. When food prep is a big part of the sinks purpose, the offset 3218B fills the need. And if maximum space is required to accommodate large items, such as oversized pots and cookware, the wide, single-bowl 3218C is the obvious choice.
For consumers, the bonus to all these premium features, is that any 3218 model can very easily be swapped out for another, at any time.
Contractors can stock up on all the 3218 models, and so be able to offer customers a real choice. It also allows the pre-cutting of countertops; confident that one of the four 3218 models in stock will be a perfect fit. One hole fits all, as each sink of the Builder Series has identical overall dimensions.
Review all the details of the 3218s by visiting http://www.mrdirectint.com/builder-series.html