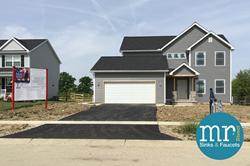 Heroes in Action has been providing for the practical needs of local military families for over twelve years.
Toledo, Ohio (PRWEB) August 31, 2016
A new house is being built in Perrysburg, Ohio. Nothing unusual about new construction, but this is not business as usual. This house has been dubbed the "Freedom House". The reason is simple: it is going to benefit military families who have been protecting our freedom. It all comes together through the efforts of one very generous individual, a volunteer organization, and several big-hearted companies.
Mr. Tim Gruber, of Ridge Stone Builders in Perrysburg, Ohio, decided to donate the proceeds from the sale of Freedom House to a military outreach program known as Heroes in Action. This organization has been working to supply practical support to military families since 2004. Several companies in the region, including MR Direct, have been moved by this gesture. As a result, the five sinks needed in this house were donated by MR Direct. And, it is with great pride that we announce that they are now installed, and construction of Freedom House is in its final phase.
Already, potential buyers have shown interest in the house; and 100% of the proceeds from the sale will go directly to Heroes in Action. MR Direct is proud that it was able to do its small part to help defray building costs and thereby increase the profits headed to this veterans' aid group.
Heroes in Action has been providing for the practical needs of local military families for over twelve years. It was founded by Dawn Heisler, who maintains a deep conviction to help veterans and their families get assistance when they need it. With her many volunteers, Dawn has been sending care packages every month to our men and women overseas -- loaded with snacks, toiletries, clothing items and always a personal letter. The organization addresses needs that often fall through the cracks of other resources; such as getting someone to a doctor's appointment, finding some furniture, or providing a bit of financial assistance to pay a utility bill. Heroes in Action works in cooperation with dozens of other organizations such as the American Red Cross, the USO, the Veterans Service Commission, and many, many, more; to accomplish any task.
Continuing support is planned for this selfless organization in the future and MR Direct hopes to encourage others to do the same. Whether it is a donation of money, time, or supplies to the Heroes in Action organization; rest assured it will make the life of a veteran just a little more manageable. Much more can be learned about this non-profit group by visiting their website at heroesinaction.org or by going on Facebook.
MR Direct products can be reviewed at http://www.mrdirectint.com