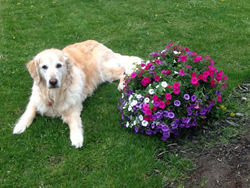 I am pleased with the results and I am enjoying watching her walk again, play with her toys, swim and enjoy life!
Poway, CA (PRWEB) August 11, 2016
According to Elsie's owner, Monica, Elsie was the result of a puppy mill. Unaware of the risks associated with buying a pup from an un-reputable source, Monica purchased Elsie from a pet store more than 11 years ago. She was 8 weeks old. By the tender age of 9 months old she had been diagnosed with full hip dysplasia. Elsie received a new hip at 11 months old with hopes that she would benefit from it for a lifetime. But at 10 years old, while her artificial hip remained in relatively good condition, her severe osteoarthritis has been causing her rear end to give in.
Monica sought help for Elsie from Dr Charles Bruce at Alta Vista Animal Hospital. She discussed stem cell therapy with Dr. Bruce and decided to give it a try. Dr. Bruce began with a fatty tissue collection from Elsie and the tissue sample was sent overnight to VetStem's lab in California for processing. Once processed the stem cells were quality checked and the injectable doses of Elsie's own stem cells were sent overnight to Dr. Bruce at Alta Vista Animal Hospital. Dr Bruce elected to have Elsie's cells cultured to ensure she would have plenty of doses for future treatments. Elsie has been treated 3 times since the original fat collection and processing- November of 2015, March of 2016 and July of 2016, each treatment consisting of one injection directly into her right hip and one intravenous injection. Monica says "I am pleased with the results and I am enjoying watching her walk again, play with her toys, swim and enjoy life!"
Dr. Bruce graduated from OVC in 2003 and pursued a rotating internship at the Oklahoma State University followed by a surgical internship at the Dallas Veterinary Surgical Center before returning to OVC for a small animal surgical residency. During his residency he was involved with research in spinal fractures and luxations and in the biomechanics of implant systems. His current area of interest and where he does most of his instructing is in arthroscopy and arthrology.
Dr. Bruce has been certified in Regenerative Cell Therapy since 2009, using adult derived stem cells to treat a wide variety of orthopedic conditions. Dr. Bruce has treated over 25 dog patients with stem cell therapy.
Monica said "Elsie's is a special story in my opinion, particularly because of her artificial hip at the tender age of 11months old. So many people suggested that I put her down but luckily I had pet insurance, so there was no decision to be made. I would do all I could to help her."
Stem cells are regenerative cells that can differentiate into many tissue types as well as being able to reduce pain and inflammation thus helping to restore range of motion and stimulate regeneration of tendon, ligament and joint tissues (http://www.vet-stem.com/science.php). In a study using VetStem Regenerative Cell Therapy on dogs with osteoarthritis of the hip joint it was found that regenerative cell therapy (adipose-derived stem cells) decreases patient discomfort and increases patient functional ability.
About Alta Vista Animal Hospital
The Alta Vista Animal Hospital was founded in 1958 by Dr. James Hutchison and Dr. Bernie Brennan at the corner of Bank St. and Alta Vista Drive in Ottawa. In 1986, Alta Vista Animal Hospital had outgrown its facilities and a new building (10,500 sq ft) was erected at 2616 Bank Street to meet the increasing demands placed on its services. Established in 1958, we have served the community for more than half a century. As a companion animal hospital, we offer veterinary services and routine veterinary care, such as vaccinations and preventative health-care programs.
About VetStem Biopharma
VetStem Biopharma is a veterinarian lead company that was formed in 2002 to bring regenerative medicine to the profession. This privately held biopharmaceutical enterprise, based near San Diego (California), currently offers veterinarians an autologous stem cell processing service (from patients' own fat tissue) among other regenerative modalities. With a unique expertise acquired over the past 14 years and 12,000 patients treated by veterinarians for joint, tendon or ligament issues, VetStem has made regenerative medicine applications a therapeutic reality beyond the realm of research. The VetStem team is focused on developing new clinically practical and affordable veterinary solutions that leverage the natural restorative abilities present in all living creatures. The company's stated mission being "to extend and enhance the lives of animals by improving the quality of recovery in acute conditions, but also by unlocking ways to slow, stop and ultimately revert the course of chronic diseases." In addition to its' own portfolio of patents, Vet-Stem holds exclusive global veterinary licenses to a portfolio of over 55 issued patents in the field of regenerative medicine.