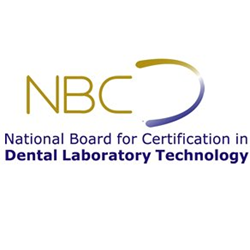 I am so proud of all the work done over the past two years to elevate our CDT program.
(PRWEB) August 11, 2016
Continuing its commitment to maintaining relevant and valid examinations for the dental laboratory technology profession, the National Board for Certification in Dental Laboratory Technology (NBC) announced an update to its job task outlines for its Certified Dental Technician (CDT) and Recognized Graduate (RG) examinations as part of the CDT program's revalidation process.
A job analysis is conducted every five years in order to identify the knowledge, skills and abilities that a professional in a particular field should have. The job analysis contributes to test validity by ensuring that the critical aspects of the job become the domain of content that the test measures.
"NBC is committed to updating our program to ensure that it is relevant to the profession," said NBC Chair Heather Voss, CDT. "In addition to launching new references, NBC has updated the foundation of our certification program, the job task outlines. These changes, while they may seem small, are monumental for the CDT program."
The updates to the job task outlines along with the new references will be active for any examinations offered by NBC after January 1, 2017.
"We are excited about these positive changes," says Voss. "The new task outlines incorporate both digital and analog processes and include newer materials. We have gone through over 2,000 questions on our written exams, have removed questions that are no longer relevant, have changed the weighting of certain areas to ensure that exams are more balanced and have written questions using the new references on digital technologies along with new materials and equipment. I am so proud of all the work done over the past two years to elevate our CDT program."
The CDT designation demonstrates a mastery of the knowledge and applied skills in dental laboratory technology. Individuals who obtain the CDT designation have demonstrated a commitment to dental laboratory technology and proficiency not all of their peers will achieve, says Voss.
"I take great pride in being a second generation certified dental technician and laboratory owner. Earning my CDT was more than just proving my knowledge and skill against a national standard set by my peers," said Voss. "It was about building community. It was about taking pride in my craftsmanship. And most importantly, it was about elevating the profession."
To view the updated job task outlines, please visit https://nbccert.org/about-national-board-certification/certification-standards.cfm. For more information on the CDT certification, visit http://www.nbccert.org/certificants/certified-dental-technician. If you have any questions, please contact the NBC office at (800) 684-5310 or certification(at)nbccert.org.
###
About NBC:
The National Board for Certification in Dental Laboratory Technology was formed in 1955 as an independent certification organization dedicated to improving the quality of dental laboratory technology through voluntary testing and certification of dental laboratories and technicians. This is the only voluntary certification program for dental laboratory technicians recognized by the American Dental Association. For more information on the NBC, please visit http://www.nbccert.org.