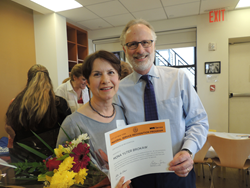 With DOROT…I feel like I'm coming to an incredibly large, warm loving family
NY, NY (PRWEB) August 15, 2016
DOROT is a social service organization that relies on volunteers to implement its mission of alleviating social isolation among older adults and bringing the generations together. Ms. Mona Yuter Brokaw is a weekly volunteer who makes birthday visits, reads to the visually impaired, and accompanies seniors to museums and medical appointments.
The award from Mayor de Blasio recognized Ms. Brokaw for her "outstanding efforts in 2015 to improve [NYC]." It also praised Ms. Brokaw for using her talents to create lasting, positive change in the community. DOROT is proud to have worked with someone so dedicated to shaping the community in a positive way.
Ms. Brokaw is also a DOROT Ambassador. She conducts corporate volunteer orientations on behalf of DOROT as a skill-based volunteer. Skill-based volunteers are volunteers who contribute their skills to the organization in an effort to enhance agency infrastructure and service. By conducting outreach and corporate volunteer orientations, Ms. Brokaw makes DOROT more efficient, thereby enabling the organization to use a larger percentage of its budget on helping the elderly.
Ms. Brokaw continues to volunteer because she derives value from giving back: "When you volunteer you get something out of it too or you wouldn't continue to do it," she says. "With DOROT…I feel like I'm coming to an incredibly large, warm loving family who just helps and makes life richer for people in all walks of life."
"I'm so thrilled to have gotten to know Mona," says Carrie Jacobs, Manager of Volunteer Services at DOROT. "She brings so much enthusiasm and passion for volunteering to the table. She's such an asset to the organization and I'm glad to see her be recognized for her outstanding work."
DOROT is a social service organization located on the Upper West Side of Manhattan that serves the Jewish and wider community. Its mission is to alleviate social isolation among the elderly and provide services to help them live independently as valued members of the community.