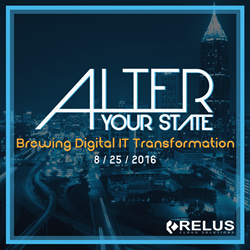 Business leaders must rethink customer experience, leverage actionable data insights, and redefine business models. These business transformations can't happen without digital IT transformation.
Atlanta, GA (PRWEB) August 15, 2016
Relus Cloud, a leading cloud and big data solutions provider in Atlanta, GA, and innovative technology partners will be hosting its third annual summer event, 'Alter Your State: Brewing Digital IT Transformation'. The event will take place at SweetWater Brewing Company on Thursday, August 25 from 6:00 p.m. to 9:00 p.m.
Mark Metz, Founder and Chief Executive Officer at Relus, will be moderating a lively panel discussion around what IT executives see as driving forces in the changing state of enterprise technology. "To remain relevant, business leaders must rethink customer experience, leverage actionable data insights, and redefine business models. These business transformations can't happen without digital IT transformation," said Metz. "We want to bring together Atlanta's IT leaders and discuss these important topics."
The panelists will include John Perkins, Senior Vice President of Global Operations at PGi; Don Browning, Chief Cloud Architect at Turner Broadcasting; and Dawit Lessanu, Senior Director of Enterprise Architecture at Macmillan. The event's keynote speaker will be Paul Soligon, Director of Commercial Sales, Southeast at Amazon Web Services.
Sponsors will include Relus Cloud, a leading cloud and big data consulting firm; Sumo Logic, a real-time, cloud-native data analytics service; ATADATA, a leading software developer of automated compute migration solutions; Actifio, a company that virtualizes the data that is the lifeblood of the business; Datadog, a cloud monitoring solution for data metrics and integrations; Zayo, a provider of bandwidth and connectivity over exceptional network infrastructure; and MapR Technologies, the only platform to integrate the enormous power of Hadoop and Spark with global event streaming, real-time database capabilities, and enterprise storage.
This year's event will bring in more than 200 IT professionals and will feature complimentary Sweetwater Brewing Company tours and beer samplings, Fox Brothers BBQ, and raffle giveaway prizes, including an Atlanta exotic car driving experience for four, Amazon Echo, and virtual reality headset.
This event is free to attend but advance registration is required. For more details and event registration, please visit: http://reluscloud.com/events/alter-your-state-2016/
About Relus Cloud
Relus Cloud empowers clients with tailored cloud strategies and big data solutions that align with business goals to drive transformative change. Headquartered in Atlanta, GA, the Company offers a suite of services that include cloud strategy and planning, cloud architecture and design, DevOps consulting, managed services, and big data solutions. Relus Cloud architects have spent years on the leading edge of cloud technology. The Company is a member of the AWS Partner Network (APN) and has achieved multiple AWS Competencies and AWS Professional Certifications. For more information, visit reluscloud.com.
About Sumo Logic
Sumo Logic is a secure, cloud-native, machine data analytics service, delivering real-time, continuous intelligence from structured, semi-structured and unstructured data across the entire application lifecycle and stack. More than 1,000 customers around the globe rely on Sumo Logic for the analytics and insights to build, run and secure their modern applications and cloud infrastructures. With Sumo Logic, customers gain a multi-tenant, service-model advantage to accelerate their shift to continuous innovation, increasing competitive advantage, business value and growth.
Founded in 2010, Sumo Logic is a privately held company based in Redwood City, CA and is backed by Accel Partners, DFJ, Greylock Partners, IVP, Sequoia Capital and Sutter Hill Ventures. For more information, visit sumologic.com.
About ATADATA
ATADATA is a company founded by seasoned technologists with a mission to simplify complexities in enterprise IT and cloud transformation through "Any-to-Any" migration automation. ATADATA software enables partners to quickly and cost-effectively deliver the benefits of their IT and cloud service offerings to enterprise customers. For more information, please visit ATADATA website: atadata.com.
About Actifio
Actifio virtualizes the data that's the lifeblood of businesses in more than 30 countries around the world. Its Virtual Data Pipeline™ technology enables businesses to manage, access, and protect their data faster, more efficiently, and more simply by decoupling data from physical storage, much the same way a hypervisor decouples compute from physical servers. To accelerate toward hybrid cloud architectures, build higher quality applications faster, and improve business resiliency and availability, Actifio is the first and only enterprise class copy data virtualization platform. For more visit actifio.com, or follow them on Twitter @Actifio.
About Datadog
Datadog is a monitoring service that brings together data from servers, databases, applications, tools, and services to present a unified view of the applications that run at scale in the cloud. These capabilities are provided on a SaaS-based data analytics platform that enables Dev and Ops teams to work collaboratively to avoid downtime, resolve performance problems, and ensure that development and deployment cycles finish on time. For additional information on Datadog, visit datadoghq.com.
About Zayo
Zayo Group Holdings, Inc. provides communications infrastructure services, including fiber and bandwidth connectivity, colocation and cloud services to the world's leading businesses. Customers include wireless and wireline carriers, media and content companies and finance, healthcare and other large enterprises. Zayo's 112,000-mile network in North America and Europe includes extensive metro connectivity to thousands of buildings and data centers. In addition to high-capacity dark fiber, wavelength, Ethernet and other connectivity solutions, Zayo offers colocation and cloud services in its carrier-neutral data centers. Zayo provides clients with flexible, customized solutions and self-service through Tranzact, an innovative online platform for managing and purchasing bandwidth and services. For more information, visit zayo.com.
About MapR Technologies
MapR enables organizations to create disruptive advantage and long-term value from their data with the industry's only Converged Data Platform, which delivers distributed processing, real-time analytics, and enterprise grade requirements across cloud and on-premise environments, while leveraging the significant on-going development in open source technologies including Spark and Hadoop. Organizations with the most demanding production needs, including sub-second response for fraud prevention, secure and highly available data-driven insights for better healthcare, petabyte analysis for threat detection, and integrated operational and analytic processing for improved customer experiences, run on MapR. A majority of customers achieves payback in fewer than 12 months and realizes greater than 5X ROI. MapR ensures customer success through world-class professional services and with free on-demand training that over 50,000 developers, data analysts and administrators have used to close the big data skills gap. Amazon, Cisco, Google, HPE, Microsoft, SAP, and Teradata are part of the worldwide MapR partner ecosystem. Investors include Google Capital, Lightspeed Venture Partners, Mayfield Fund, NEA, Qualcomm Ventures and Redpoint Ventures. Connect with MapR at mapr.com.