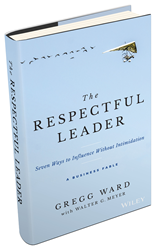 Gregg Ward knows that common sense in the workplace is not necessarily common practice. Learn how the simple act of treating others with respect can transform individuals, departments, and organizations for the greater good. -- Ken Blanchard
(PRWEB) August 15, 2016
Noted author and speaker Gregg Ward's new book The Respectful Leader: Seven Ways to Influence Without Intimidation has been named a Top Ten Best Book of the Month by the editors at Amazon.com. Ward's highly anticipated latest book was published by Wiley and released on July 25th, 2016.
"I'm honored that the editors at Amazon have recommended my book," Ward said from his office in San Diego. "It's a story about how anyone from a CEO to a small business owner – even a political leader – can create a positive culture based on respect."
The Respectful Leader is an easy-to-read, true-to-life business fable about Des Hogan, a new CEO who discovers that disrespect on the part of his leadership team is hurting morale, productivity and profits, threatening to bring down his company and everyone who works there.
Easily read in one sitting, The Respectful Leader dramatizes the impact of disrespect and offers up the Seven RespectfulDo's, a set of leadership skills that any team member can adopt to bring respect and respectful leadership to their company's culture.
Business author and speaker Ken Blanchard says, "Gregg Ward knows that common sense in the workplace is not necessarily common practice. Read The Respectful Leader and learn how the simple act of treating others with respect can transform individuals, departments, and organizations for the greater good."
Peter Knox, Director of Marketing at Wiley, also commented. "This designation by Amazon is a huge honor for Gregg and for Wiley. We couldn't be more proud."
A former specialist trainer for the New York City Police Department, Ward now consults with global corporations including Booz Allen Hamilton, Harley-Davidson, Kaiser Permanente, QUALCOMM and Warner Bros. Studios. Ward focuses on what he calls Respectful Leadership, "the practice of treating others – regardless of their (or your!) status or position – with the same kind of genuine regard and consideration that you want them to give you."
The Respectful Leader is available at bookstores nationwide and for order online. Ward will appear at Warwick's bookstore in La Jolla, CA on Thursday, August 25th at 7:30pm to discuss and sign his book.
About the Gregg Ward Group
The Gregg Ward Group is a management consulting, training and executive coaching firm that focuses on helping leaders develop their Respectful Leadership, Emotional Intelligence, and Executive Presence skills through experiential learning, guided interactive facilitation, and professional theater performances. Learn more at greggwardgroup.com.