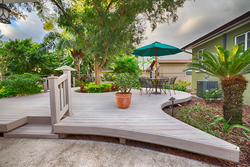 We are extremely proud to partner with a distributor like Cedar Creek that has a strong reputation and is known for their quality of service
Springdale, Arkansas (PRWEB) August 11, 2016
MoistureShield is extending distribution to meet increasing demand by furthering its partnership with Cedar Creek, LLC. MoistureShield will now be available through the Cedar Creek locations in Nashville, Madison, Little Rock, Birmingham and Indianapolis, adding to their current offering in Denver. Through Cedar Creek, MoistureShield will provide its entire line of high performance decking including cap stock and wood-plastic composite collections, railing, deck lights and hidden fasteners.
"We are extremely proud to partner with a distributor like Cedar Creek that has a strong reputation and is known for their quality of service," said Brent Gwatney, Senior Vice President for MoistureShield Composite Decking. "Market demands are increasing, and as both of our companies grow we are looking forward to the opportunity to meet this demand growth together."
With 31 branch locations, Cedar Creek is one of the country's premier independent distributors of building products. Cedar Creek is dedicated to providing the highest quality products available from trusted vendors and manufacturers in North America and internationally. They are passionate about understanding the needs of the market and striving to maintain competitiveness in the growing building industry.
MoistureShield Composite Decking is the only composite tough enough to be installed on the ground, in the ground or underwater while still being protected by the industry's leading lifetime warranty. MoistureShield's expanded family of outdoor living products offers the right options to fit every backyard. Homeowners can choose from the Vantage Collection – a high performance reversible board – or Pro collection – a capped board with an added layer of protection and beauty. Dream decks can be completed with MoistureShield's full Outdoor Living Family, including MoistureShield Deck Lights, Hidden Fasteners and Aluminum Railing. Built to be tough, yet beautiful, all MoistureShield products inspire carefree living while making a statement.
For more information on MoistureShield products, visit moistureshield.com. Follow MoistureShield on popular social networks for deck design inspiration and outdoor living ideas.
About Advanced Environmental Recycling Technologies (A.E.R.T.):
Advanced Environmental Recycling Technologies, Inc., (A.E.R.T.) trades on the OTCQB venture stage marketplace for early stage and developing U.S. and international companies. The development of new technologies and patents has enabled it to manufacture superior composite products from recycled wood fiber and recycled polyethylene plastic for the building and construction markets. A.E.R.T. is the exclusive manufacturer of MoistureShield® composite decking and outdoor living accessories. Investors can find Real-Time quotes and market information for AERT on http://www.otcmarkets.com. Details about MoistureShield products can be found at http://www.moistureshield.com.