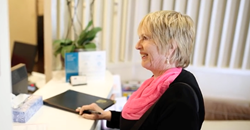 I never expected to be diagnosed with breast cancer. It's ironic, especially when you consider the device my company produces.
Pleasanton, CA (PRWEB) August 16, 2016
Sanarus Technologies, developers of the Visica® 2 Treatment System, today announced the release of "A Breast Cancer Story." The video follows Sanarus Chairman and CEO BJ Hardman from diagnosis through treatment for breast cancer, which was discovered while filming a corporate video about cryoablation. Produced by Ivy Island Productions, the video is a compelling, firsthand account of Hardman's experience. The video also features Los Angeles breast surgeon, Dr. Dennis Holmes.
Cryoablation—also referred to as tumor freezing—is a procedure that uses extreme cold to freeze and destroy tissue, including cancer cells. The Visica 2 Treatment System, Sanarus Technologies' flagship product, is an image-guided cryoablation device. During breast cryoablation, a thin probe is inserted through the skin directly into the tumor. Liquid nitrogen is pumped into the probe to form an "ice ball" around the lesion. Freezing destroys the tumor cells, which are then reabsorbed by the body. The procedure generally takes about 30 minutes and is done under local anesthesia in a physician's office or outpatient setting. Breast surgeons and interventional radiologists use cryoablation as an alternative to lumpectomy in select patients. The revolutionary technology offers the advantage of a nonsurgical treatment that does not alter the shape of the breast.
"I never expected to be diagnosed with breast cancer," said Hardman. "It's ironic, especially when you consider the device my company produces. Now I know what it feels like to receive a diagnosis like that. Your world stops, but everything around you is spinning."
It was during the filming of a corporate video about breast tumor treatment that the early stage breast cancer was discovered. Hardman elected to continue filming and capture the experience in an effort to increase awareness of the cryoablation procedure and share her story. "I was scared, but also grateful that the lesion was discovered in time. The procedure was virtually painless and the downtime was minimal," said Hardman.
The release of "A Breast Cancer Story" comes on the heels of the company's ACOSOG (Alliance) Z1072 breast cancer study published in the Annals of Surgical Oncology this July. The 5-year multicenter study measured the rates of complete tumor ablation in breast cancer patients treated with cryoablation. Results showed image-guided cryoablation with the Visica 2 Treatment System was 100% effective for complete ablation of invasive ductal breast cancer tumors <1cm and cryoablation was successful for the target lesion in 92% of patients.
BJ's decision to document her story was a courageous move," said Israel Madera, vice president of marketing for Sanarus Technologies. "We decided to go public with it to let more early stage breast cancer patients know that cryoablation is a minimally invasive treatment option that may be appropriate for them."
Sanarus Technologies is now enrolling patients for a second clinical trial, Freezing Instead of Resection Of Small Breast Tumors (FROST). The FROST trial examines the use of cryoablation as an alternative to surgical resection for the management of primary early stage invasive breast cancer. The trial will recruit 200 female patients, 50+ years of age, at 20 locations and will provide follow-up results for five years. Unlike the Z1072 trial, the ablation tumors will not be resected. Cryoablation will be done with the Visica 2 Treatment System.
About Sanarus Technologies, Inc.
In 2001, the Visica® Treatment System was the first system available for cryoablation of fibroadenomas. Since then, our systems have been used to successfully treat thousands of patients. The System is FDA-cleared for the ablation of cancerous or malignant tissue and benign tumors. At Sanarus, we pride ourselves on developing innovative solutions for the nonsurgical treatment of breast tumors. We are headquartered in Pleasanton, CA and all of our products are manufactured in the USA. Find out more at sanarus.com.