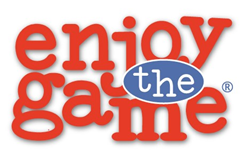 Enjoy the Game is well-developed and was easily integrated into our existing curriculum. Its effects are seen in the gym, on the playground and beyond. Dr. Cathy Paul-Principal, William Bryant Elementary
Kansas City, Missouri (PRWEB) August 31, 2016
Enjoy The Game was started when founder and president, Bill Stutz, recognized that kids were not enjoying the time they spent playing games. "There was too much pressure and lack of mutual respect for all those involved (kids and parents)," says Stutz.
According to a Michigan State University study, 20 million kids in the US begin playing sports between ages 5 and 6, yet 70% quit by age 13 because it wasn't fun.
Enjoy The Game's mission is to solve this problem.
Using education as the primary tool Enjoy The Game was created to help all those involved in youth sports learn the value of respecting the player, coaches, rules and officials. In the process Enjoy The Game received endorsements from Major League Baseball, The National Football League, the National Basketball Association. Stutz believes that good sportsmanship starts with "raising a generation of kids who could truly see the value in participating in fun sports and activities."
Enjoy The Game Physical Education Program is a character-based four step program that teaches and encourages students to put into daily practice respect for self and others, while promoting behavioral modification. The ramifications of the program quickly go outside the gym walls and the impact is seen in the classrooms, hallways, playground, cafeteria, and even on the bus. Enjoy The Game meets 2 of the 5 National Quality Teaching Standards set by SHAPE AMERICA! To learn how Enjoy The Game can benefit your school visit http://www.enjoythegame.com, or email contact(at)enjoythegame(dot)com