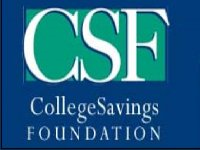 "We see both parents of high school students and their children working together to tackle the high cost of college. -- College Foundation Chair Mary Morris Morris
Washington, DC (PRWEB) August 17, 2016
As high school students get ready for back to school, their parents are gearing up for the formidable task of paying for college. In releasing its 10th Annual State of College Savings survey of parents across the country, in which the majority of respondents have at least one child aged 14-18, the College Savings Foundation (CSF) offers a window into the realistic choices that families are grappling with in the years prior to starting to pay for higher education. For charts and graphs see http://bit.ly/2byvTxQ
The vast majority of parents (88%) are planning to help fund their children's college education. Among those who are planning to help, 32% said that savings is the number one way that they plan to pay for college costs. 32% of all respondents own a 529 college savings plan.
The survey found that 67% of parents were already saving; and among them, three-quarters had already saved more than $5,000 per child.
"We are encouraged to see that parents are prioritizing savings in the years immediately prior to college," said CSF Chair Mary Morris. "At the same time, we know that most need to employ a variety of strategies to access funds and reduce college costs."
As examples of other sources of funding:

44% of parents plan to borrow to finance their children's college, with education loans as the dominant source (74%).
65% expect their children to get financial aid, with 74% in the form of grants and scholarships.
Strategies to Pay for College
A large majority, 80% of parents, expects their children to help pay for college. Of those, 57% expects them to contribute up to one-third; 27% between one-third and two-thirds, and 16% over two –thirds of the cost of college.
How do parents expect their children to contribute? Among a selection of options, most parents chose getting a job (43%) or getting Scholarships/Grants/Fellowships (29%).
CSF's 2016 Youth Survey of high school students across the country showed that high school students are on the same page. They are planning to help fund their higher education with 60% of them saving for college, 56% expecting to get financial aid; 71% of them planning on taking loans, and 85% anticipating receiving a scholarship. 63% intend to work in college.
When asked about plans to reduce the cost of college, the most important way that parents plan to reduce college costs is for their child to attend community college for two years and then transfer to a four-year school (25%), followed closely by attending a state school rather than a private school (23%).
"We see both parents of high school students and their children working together to tackle the high cost of college," Morris said.
College Debt Hovers Over Parents and Their Children
At the same time, parents are concerned about the prospect of college debt for their children. One-quarter of them are still paying off their own debt, making most of them consider other funding approaches for their children.
The concern about debt affects their children's decision-making process. 28% of parents said their children had considered not going to college at all; and the leading reason (31%) was that their child did not want student debt.
This underscores the findings of CSF's Youth Survey, showing that 37% of high school students had already changed their higher education choices because of costs. Further, 33% of them were changing their higher education choices for other reasons such as joining the family business, joining the military, because their career choice doesn't require college or because they believe college doesn't provide the critical skills they need for employment.
Savings Knowledge and 529s Equal Power over College Costs
As children get older and near college age, parents are more likely to know how much they need to save for college. 47% said they know how much they will need to save to fund their children's college education. They appeared to be proactive in determining that amount, with the top two most popular ways to do so being contacting the specific colleges they have in mind (29%), and using a college savings calculator (26%).
With college right around the corner, 63% of parents were somewhat confident (31%), very confident (19%) or completely confident (13%), that they could reach their college savings goals.
One key strategy that helps is the use of 529 college savings plans. Among the parents who own a 529 college savings plan, 96% are saving already, and 89% had saved more than $5,000 per child.
What Parents Want from the Government
Finally, when asked what parents would like to see the new President and Congress do regarding 529 college savings plans, they answered the following, ranked in order of preference:
All people are able to save in 529 plans regardless of income (40% ranked as number one)
Provide incentives for employers to help employees save in 529s (29%)
Unused funds saved in 529s should be eligible for rollover into IRAs (20%)
Allow 529 contributions to be eligible for the current Saver's Credit (13%)
The CSF State of College Savings survey of parents was conducted through survey monkey with an audience from ResearchNow of 800 parents across the country.
The College Savings Foundation (CSF) is a Washington, D.C.-based not-for-profit organization helping American families save for higher education. http://www.collegesavingsfoundation.org