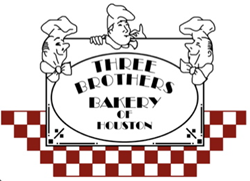 Our bakery staff is truly one-of-a-kind by continuing our family traditions as well as creating innovative and modern treats for our guests to enjoy - Bobby Jucker
Houston, TX (PRWEB) August 17, 2016
Three Brothers Bakery was recently named to The Daily Meal's 20 Best Bakeries in America list for 2016. According to the food-centric website, the list recognizes the top 20 bakeries across the country who excel in creating fresh-baked pastries, cupcakes, cakes, cookies, or other specialty sweets. Three Brothers Bakery was recognized specifically for "their signature gingerbread cookies and modern customized cakes that can suit every occasion."
Currently in its fifth generation of family bakers, Three Brothers Bakery has not only retained its recipes dating back to Chrzanow, Poland circa 1825, but continues to prove its roots with its commitment to selling these scratch made recipes. The original three brothers Sigmund, Sol and Max came to Houston after surviving the Holocaust.
"We are thrilled to be honored for the third time as one of The Daily Meal's 20 Best Bakeries in America," said Bobby Jucker, co-owner of Three Brothers Bakery and fifth generation baker. "Our bakery staff is truly one-of-a-kind by continuing our family traditions as well as creating innovative and modern treats for our guests to enjoy. This award is for our entire team."
Jucker and the entire Three Brothers Bakery family are grateful for this accolade and are excited to keep providing the Houston area with scratch-made baked goods that continue to make Three Brothers Bakery a beloved community staple.
For more information regarding Three Brothers Bakery, please contact Kelsey McCullough at 713-225-0880 or kelsey(at)integrateagency(dot)com.
About Three Brothers Bakery
The traditions of Three Brothers Bakery began in Chrzanow, Poland circa 1825, and were preserved despite the family's concentration camp imprisonment during the Holocaust. Their miraculous liberation, and subsequent move to Houston, brought Eastern European scratch baking traditions to 4036 S. Braeswood Blvd, 12393 Kingsride Lane, and 4606 Washington Ave. where the owners are now proud to call themselves "memory makers who happen to be bakers." Perfecting the process for almost 200 years, each day the fifth generation bakers produce mostly dairy-free breads and pastries, cookies, a full line of specialty dessert cakes and pies, as well as custom birthday, special occasion, wedding and groom's cakes using only the highest quality ingredients.
Three Brothers Bakery has been awarded many accolades over the years including "Best Mail-Order Pies 2012" from Bon Appetit, as well as Modern Baking's "2013 Retail Bakery of the Year" and was part of The Knot's "2010-2013 Best of Weddings" and "Hall of Fame" picks. The famed Pecan Pie was named "the best mail order pecan pie America has to offer" by Country Living magazine and the bakery was named one of the 12 best pie shops in America and most recently, named one of the 20 best bakeries in America by The Daily Meal for the third year in a row. Bakery owner, Bobby Jucker competed in the popular 'Food Network Challenge' and has been seen on Food Network's Outrageous Food featuring their Pumpecapple Piecake. The bakery was awarded the 2013 Jeffrey Butland Family-Owned Business of the Year by the Houston division of the U.S. Small Business Administration. Three Brothers Bakery is a certified Woman-Owned Business through the Women's Business Enterprise National Council, and a State of Texas Historically Underutilized Business.
Follow Three Brothers Bakery on Facebook and Twitter for news, information and events.