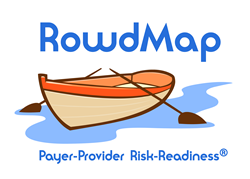 We work with payers and providers in 48 states, bring over 100MM patients and members high-value care. That's meaningful innovation.
Nashville, TN (PRWEB) August 16, 2016
Joshua Rosenthal, PhD, Chief Scientific Officer and Co-Founder at RowdMap, Inc., will be speaking on how health plans and physicians and hospitals create high-value care with open data from the Department of Health and Human Services (HHS) and the Centers for Medicare and Medicaid Services (CMS). According to the Institute of Medicine (IOM), thirty cents of every dollar goes to low-value care, or care that has higher risks and costs but does not produce better outcomes. According to researchers, if low-value care were removed, there would be more than enough care to cover the population. As participants in the healthcare delivery system look for opportunities to create meaningful economic impact, few other issues offer such scope much less social good.
The presentation entitled, "Public Good from Market Forces: High-Value Care for Payers, Providers and Consumers" will be delivered at the Health:Further Summit on Wednesday, August 24th, 2016 at the Music City Center, Nashville, TN: http://bit.ly/HealthFurtherRowdMap
The Health:Further Summit is a national event that brings together thousands of payers, providers entrepreneurs, investors and developers and technologists. Rosenthal will be joined by presenters from Amazon Web Services, Johnson & Johnson, Salesforce, Xerox and the Department of Health and Human Services.
The presentation will focus on creating high-value care in at-risk populations and with government programs. Often overlooked in healthcare innovation circles, government programs including Medicare, Medicaid and Exchange or Marketplace are the real locations for innovation in healthcare. While direct to consumer companies make headlines, innovation with impact is flourishing in areas such as business-to-business sectors with health plans and providers. Traditionally, innovation rarely reached into core strategy and systematic operations in these markets, but with CMS changing payment models and dollars moving from the amount and intensity of care to the quality and outcomes around managing a population, the space is experiencing a fundamental transformation with conservative players taking on risk.
"Healthcare innovation often focuses on consumer apps or IT systems, with public and social good as an afterthought. The truth is that the challenges in healthcare are not just difficult, but systemic. The delivery of care has been driven by perverse incentive models for decades, with a disastrous result: one third of every dollar spent goes to care that does not produce better outcomes. Reducing low-value care has massive economic impact for payers and providers and at the same time organically creates marked social good for the population. Fortunately CMS has released data about, and the market is now incentivizing, high-value care. We use this information to cover over one hundred million patients and members in 48 states, bringing high-value care to over one third the American population. That's what we consider meaningful innovation," said Joshua Rosenthal, PhD, Chief Scientific Office, RowdMap, Inc.
Those interested in learning more are encouraged to contact RowdMap, Inc. directly.
About RowdMap, Inc. :
An Ernst and Young EY Entrepreneur Of The Year® winner, RowdMap's Risk-Readiness® benchmarks help health plans, physician groups, and hospital systems identify, quantify, and reduce no-value care that physicians deliver—a central tenet of successful pay-for-value programs.
Through practice pattern and referral analysis, RowdMap's benchmarks identify the health care entities that manage unwarranted and unexpected variation in care. This variation leads to more than $850 billion in no-value care annually. Payers and physicians use RowdMap's physician and population health benchmarks to create strategies that put these highest performing physicians at the center of networks and then design products, organize clinical programs, and coordinate sales and marketing around them. RowdMap's platform comes preloaded with benchmarks for every physician, hospital, and zip code in the United States—no IT integration required. RowdMap's Risk-Readiness® Platform works across all market segments and has significantly larger returns than traditional medical economics approaches.
For more information, please visit http://www.RowdMap.com