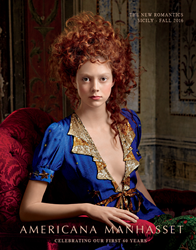 "Sicily was the perfect choice as a location," said Charles DeCaro
Manhasset, NY (PRWEB) August 17, 2016
2016 marks the 60th Anniversary of Americana Manhasset, and the Fall campaign is part of a year-long anniversary celebration. Photographed, produced and styled by Laspata/DeCaro, the campaign was shot in various locations in Sicily. Backdrops range from the gilded Palazzo Gangi to the charming seaside town of Porticello to the historic and lovely Villa Wirz.
Americana's Fall Book is direct-mailed to 130,000 targeted households. The images are being featured in national and regional print ads in publications such as The New York Times, T-Styles magazine, The Wall Street Journal magazine and The World Journal newspaper, as well as in various digital media such as nyt.com. The campaign will be featured on the outside of the Hampton Jitney with a total bus wrap from mid-August through mid-October. The campaign is also being shown prominently throughout the season on Americana's website, americanamanhasset.com and featured on Americana social media outlets.
In conjunction with the still images, Americana Manhasset has debuted a short film, entitled "The New Romantics" which stars Natalie Westling and captures the oplulent spirit of the campaign, set to dramatic music. The piece will be featured in digital advertising as well as front and center on Americana's website, along with a fun and fast-paced behind-the-scenes video of the photo shoot.
"Sicily was the perfect choice as a location," said Charles DeCaro. "It conveyed the eminence we wanted to represent Americana's 60th Anniversary, but it also made sense with the collections this season, many of which have a baroque or Renaissance vibe. There is a lot of lace and velvet and hand-crafted detailing, along with rich, luxurious colors and textures. The clothes feel like they belong in these villas and palazzos. As always, while we had a clear editorial voice and a strong vision for this campaign, it is the fashion and the designers' messages that remain the focus. We shoot an appropriate photograph for each brand, from Hermès, Gucci and Céline to Tory Burch, Theory and Zimmermann, but each image also works as part of the whole."
Americana Manhasset is a premier collection of over 60 fine shops, including Hermès, Chanel, Louis Vuitton, Gucci, Cartier, Ermenegildo Zegna, Van Cleef & Arpels, Bottega Veneta, Hirshleifers, Ralph Lauren, London Jewelers and more, all within a unique outdoor environment designed by renowned architect Peter Marino and landscape designer Oehme van Sweden. Americana Manhasset offers a complimentary Personal Shopping Service, a remarkable luxury fashion and gift resource. Located on Long Island's beautiful North Shore, Americana Manhasset is 20 miles from Manhattan and 50 miles from the Hamptons.
Additional and/or high-resolution images from the 2016 Fall campaign are available upon request.
For more information please visit americanamanhasset.com. Follow Americana Manhasset on Instagram and Twitter, subscribe to our YouTube channel and like our Facebook page!