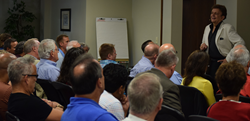 "He has all the power and he is working alongside you," said Silvoso. "As you go, you will be disciple-ing a city, a state, a nation and the world."
CINCINNATI, Ohio (PRWEB) August 19, 2016
Prayer evangelist and city transformation leader Ed Silvoso invited Cincinnati's At Work on Purpose leaders to operate like the first-century Church that Jesus designed – to act as an "ekklesia" to eliminate systemic poverty in the city.
An ekklesia is "a community called out." Silvoso urged Cincinnati Christians to minister to the felt needs of the people here to eliminate systemic poverty, transforming the city.
Silvoso is best known as a leader of the modern transformation movement. The CEO of Transform Our World Network in San Francisco, Calif., spoke to a group of church and business leaders at an At Work on Purpose (AWOP) leadership gathering at ScrogginsGrear Consultants and CPAs in Springdale.
Silvoso directly influences 3,500 leaders who lead more than 3.5 million people around the world. He stresses the importance of developing strategic alliances between church and marketplace leaders to bring about changes in spiritual climates that will positively impact government, education and workplace environments.
"Ed Silvoso has connected the dots between the marketplace, ministry and nation transformation," said Chuck Proudfit, AWOP founder and president. "He brings people together to illustrate how local businesses can work with local pastors and ministries to positively change cities and nations."
AWOP, located in Blue Ash, Ohio, is the nation's largest citywide marketplace ministry, and connected to more than 8,000 working Christians. The nonprofit was formed in 2003.
Silvoso identified four hierarchical levels of involvement that Christian business people typically engage in in the marketplace: those who simply survive spiritually amidst the secular pressures of the marketplace; those who apply Biblical principles to the way they do business; those who operate in the power of the Holy Spirit and view themselves as ministers in the workplace rather than just CEOs; and those who lead efforts to transform the marketplace through their ministries at work.
"If your work is an act of worship, it changes you," said Silvoso. "You realize you are anointed by God" to effect positive change.
"He has all the power and he is working alongside you. As you go, you will be disciple-ing a city, a state, a nation and the world."
Silvoso stressed that the power of God can change hearts, improve conditions for people and create miracles.
"With God we can, but without us, he won't," he said.
He invited Christian business people and ministry leaders to join him Oct. 3-7 to attend the 26th annual Transform Our World global conference, which will be held in San Jose, Calif. Each day will feature speakers and interactive workshops on how participants can take spiritual transformation to higher levels within their spheres of influence.
The theme of this year's conference will be miracles-- how leaders are turning school systems, hospitals, city halls and factories into ekklesias of Christian ethics and biblical practices. The conference will focus on how church and business leaders can minister to people in their communities, eventually engaging them in faith conversations to help embrace positive change.
Miracles in congregations; the marketplace; in education; the family; and through strategic intercession will also be addressed.
John McCarthy, CEO at AGI Hospitality Recruiting, is part of AWOP's Neighborhoods Embracing Transformation, a member of the International Transform Our World network. He announced a Cincinnati event to be held Oct. 14 and 15 called CincyShift, aimed to claim Cincinnati for Christ and work to eliminate poverty. Speakers from local businesses and ministries are planned.
For more information about the Silvoso global conference, visit http://www.transformourworld.org.
For more information on AWOP's CincyShift and other events, its faith-at-work tools and activities, go to http://www.atworkonpurpose.org or call (800) 513-9580.
# # #
Contact: Laura Jackson
Email: ljackson(at)atworkonpurpose.org
Phone: (513) 477-2652
About At Work on Purpose:
At Work on Purpose is the nation's largest, citywide marketplace ministry. Based in Cincinnati, the nonprofit organization helps working Christians mobilize the work world for Christ by offering inspiring and proactive ways to integrate faith into work, transforming jobs into platforms for ministry.